Police find 'dissident device' in Poleglass alert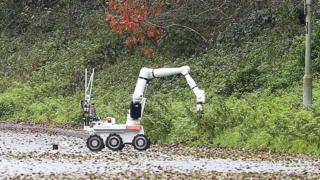 Belfast police have found an explosive device they say was left by dissident republicans, after a three-day hunt.
Police said the "explosively formed projectile" found in the Poleglass area was designed to attack the PSNI.
Homes were evacuated and transport was disrupted as a hunt for the device began on the Bell Steele Road and Pantridge Road on Monday.
Detectives say that some of the cordon points have been moved and that some roads in the area are now accessible.
Ch Supt Jonathan Roberts said: "The device is an explosively formed projectile which is basically a form of horizontal rocket. It is extremely dangerous."
Supt Robert Murdie said earlier that those responsible for the alert "wish to instil fear, disrupt the community and attempt to distract officers from delivering the policing service the local community want and deserve".
He understood three days of police searches had caused disruption to people in the area, but they were required to keep people safe, he added.
'Coded warning calls'
SDLP councillor Brian Heading said the device had been abandoned by a new dissident group who "aren't wanted in our communities".
Sinn Féin councillor Stephen Magennis said the alert was raised after "coded warning phone calls".
He said those behind the alert had "put this community at risk".
"This would be the first time that this group has come to prominence anywhere within this area, but we know very little about them," he told BBC NI's Good Morning Ulster.
"It is the first time their name has been mentioned, I have heard bits and pieces about the group but never anything locally within the area.
"One thing I can say, speaking to people yesterday (Tuesday) is that they are very angry at this group."
A number of families who were moved from their homes have now returned.
Mr Magennis said the alert had caused "widespread disruption" for workers and residents.
"One particular area of nearly 1,000 homes was cordoned off yesterday, people could not get in and out of their homes," he added.
"A lot of people could not get to hospital, could not get to work, there was no public transport within the local area, the local church had to close."
Ronan McCaffrey, a youth worker at the Sally Gardens Community Centre in Poleglass, also highlighted the disruption that had been caused.
"For people who use this centre, mainly young ones at night, some of them have found it impossible to get to the centre," he said.
"On a wider scale, for a lot of older people hospital visits have had to be cancelled.
"It is very unfortunate that it has occurred over the Halloween period. People can't get to and from parties or celebration events in the area."