Family asked to organise care home package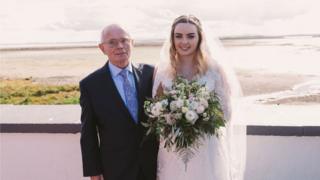 The family of a County Down pensioner have been asked to contribute towards his social care package so he can return home from hospital.
George Stewart, 78, suffered a brain haemorrhage at the start of the year.
He was discharged from hospital in May, but is still in a nursing home's elderly mentally infirm (EMI) unit.
The Belfast Health and Social Care Trust said the move was necessary due to insufficient staffing but the family would be reimbursed.
Door remains locked
Mr Stewart's family said they do not feel qualified to draw up a contract, pay and manage care workers hired from a private company - which would be required if the trust handed over responsibility for his care.
The family said the pensioner was initially unwell, confused and frail, but has made a good recovery and would like to go home.
But that has not happened due to a lack of care workers within the health trusts.
Instead, Mr Stewart has been living in a specialist unit in a care home that treats people with dementia.
The unit's door remains locked and Mr Stewart is not allowed to freely move around.
His son Mark Stewart said the family was told at first that the stay would be short, until a care package was arranged.
"Every time we ring or visit, he asks when he's going home," he said.
"His health is deteriorating mentally and physically.
"After all, he's made a remarkable recovery and he is well enough to go home.
"He doesn't need to be in a secure unit, but he's there because there isn't a suitable care package for him," he added.
'Just not working'
The Belfast Health Trust has been able to secure two daily home visits but Mr Stewart requires four, including a night-time call.
Mark Stewart said his father's case highlighted a social care system that is "just not working".
"It's costing the taxpayer a lot of money to keep my dad in the care home when it could be a much cheaper option for him to be at home and that would be his wish," he said.
As the pensioner's sons work away from home, they are unable to help as much as they would like.
They said they are reluctant to arrange and fund their father's care as it is the responsibility of the trust.
"They've asked us to consider employing people ourselves and they would reimburse us, or we would open a special bank account and they would pay us afterwards," said Mark Stewart.
"But that isn't the point - hat would put the duty of care, we feel, on us instead of the health trust."
Domiciliary care support in NI
The level of publicly funded support is based on patients' needs and varies widely, depending on individual circumstances.
If a patient requires help at home in order to leave hospital, their local health trust will carry out a personal assessment before the person is discharged.
Alternatively, if the applicant is already living at home but needs support from carers, their first step is to ask their GP to arrange a personal assessment through the trust.
Health trusts will pay for the care services recommended in the assessment, for example, home visits to prepare meals/daily visits to remind patients to take tablets.
However, if the patient's family decides that their relative needs additional help - for example, assistance with shopping, laundry or getting washed and dressed - they will have to pay for that care themselves, if it has not been recommended by the assessment.
In what is known as self-directed support, families can choose how to manage a loved one's care.
In the case of Mr Stewart, the family said they did not feel qualified to do it and instead wanted the trust to arrange and manage his care.
The Belfast Health and Social Care Trust told the BBC that, as in the rest of the UK, the availability of staff in Northern Ireland is insufficient.
It said the shortfall needs to be addressed, and that it is working closely with relevant agencies to work out how to achieve this.
'Crumbling care system'
The Department of Health said it was finalising a review to improve domiciliary care that would include recommendations on:
Commissioning
Recruitment and retention
Education and training
Career development
Workforce planning
Partnership and community working
A department spokesperson said: "We continue to work towards this patient receiving the best possible support in his own home as soon as is possible."
Age NI's charity director Duane Farrell said Northern Ireland's social care system - particularly concerning domiciliary care - is crumbling and he is deeply concerned about its future.
"We are hearing of providers handing back clients in health trusts because they cannot afford to maintain these contracts," he said.
"It just seems nonsensical at a time when the government is saying a care home is the best place to provide somebody's care and actually that infrastructure to be able to do just that is simply not there."
He said cases like Mr Stewart's, where families are being asked to pay for services up front, were typical.