Culture in NI 'used as continuation of conflict'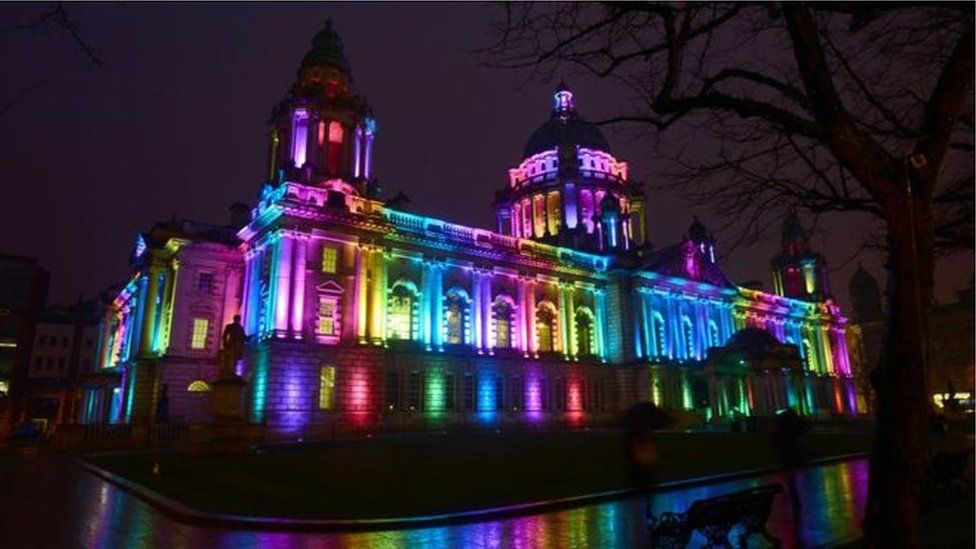 Culture in Northern Ireland has been "used as a continuation of conflict by other means", says a draft of Belfast's European Capital of Culture (ECoC) bid.
The draft bid says it aims to change that to improve Northern Ireland.
Belfast is competing with Leeds, Dundee, Milton Keynes and Nottingham for the 2023 ECoC title.
Its draft proposal, seen by BBC News NI, envisages a new Anthony Gormley sculpture on the Glenshane Pass as well as an "urban forest" in Belfast.
That would see "a forest of trees" running 1km (0.62 miles) from Belfast City Hall to Ulster University.
Other projects in the draft of the "bid book" of Belfast and Londonderry's submission, which has been submitted to the ECoC organisers but not been made public, include:
A new arts festival in Derry called New Norths
A carnival commemorating the outdoor relief strike in Belfast in 1932
Portraits of people dancing projected on to landmark buildings in Belfast and Derry for the entire 2023 year
A national #loveto day in 2023 when businesses will give their staff a day off to go to a cultural event
A series of "bothies on the border" where artists will work
A project called homebots that will train teachers to help pupils build domestic robots
The draft document does not contain an indicative budget for the programme of events.
A shortlist will be announced in December, followed by a second round of submissions, and the overall winner will be announced in 2018.
The UK is still expected to host the ECoC title in 2023 in spite of Brexit, but that will depend on the outcome of negotiations with the EU.
The document says the peace process has "focused on cultural differences" between two largely separate communities.
"The binarisms of 'us and them' of Catholic or Protestant, British or Irish have stifled our institutions, blunted our creativity and reduced our sense of personal identity," it states.
"Cultural diversity is a failed concept in Northern Ireland."
Cultural diversity refers to the existence of, and mutual understanding between, a variety of cultural and ethnic groups in a society.
The draft cites Belfast City Council's own policy on linguistic diversity as an example of the failure of cultural diversity here.
The council's draft linguistic policy "comprises separate policies relating to the minority languages of Irish and Ulster-Scots, rather than one policy which has shared principles of diversity at its root", it states.
"Cultural diversity in our part of Europe has tended to refer to interventions... between two largely separate communities, rather than striving towards a vision of unity in diversity."
"The reality of a peace process which has focused on cultural differences at the expense of ethnic diversity has become obvious in the racist graffiti which is now appearing on our streets."
Elsewhere, the document says that in Belfast and Derry, "culture is still seen by some and used at times as a tool to intimidate and exclude".
The draft 2023 bid, under the title "@home", says it hopes to "create a step change to move beyond this".
The document also says that the Belfast and Derry entry is "a bid for change".
Belfast is the candidate city for the 2023 bid, but is working in partnership with Derry City and Strabane council.
The draft also includes a number of artistic and cultural projects which would take place if the cities win the award.
"Our programme is not a beautiful celebration of the perfect city decorated by big names and blockbuster festivals," it notes.
The document said it would define ECoC as a success if it led to Northern Ireland being more "at peace within and between ourselves".
In response to a BBC request for a statement, a spokesperson for Belfast City Council said: "ECOC 2023 is a highly competitive process and we will not give a detailed comment at this stage especially as the timing is so crucial and ahead of the decision by the judging panel and the pitch that is taking place on 28 November.
"For this reason, cities usually refrain from publishing any details of their respective bids ahead of the judging panel taking place in order to retain the integrity of the bid. The decision by Leeds to release details of its bid is not the normal course of action and was a decision they chose to make.
"We are disappointed that the BBC would choose to publish details of a confidential competitive document and potentially put at risk the chances of securing this important accolade that could bring significant and once in a lifetime opportunities."