NI Paper Review: Halloween 'pond tragedy'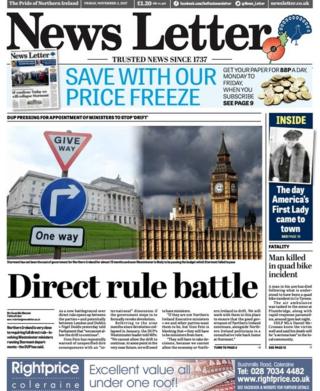 The tragic drowning of a four-year-old boy on Halloween night features on the front pages of Friday's papers.
The Belfast Telegraph reports that Jack Irvine, from Crumlin, died after drowning in a fish pond.
The boy's father, Eddie, said his son "was only gone for a moment" during family Halloween celebrations, it reports.
The Irish News calls the boy's death a drowning accident and carries tributes to "a wee angel", whose funeral will take place later on Friday.
The lead story in the News Letter, meanwhile, focuses on the fallout from Stormont's lack of agreement this week.
"Direct rule battle" is the front-page headline, with the story reporting that the DUP believe direct rule is very close to becoming a reality.
The paper quotes DUP MP Nigel Dodds as telling colleagues in the House of Commons that politicians "cannot allow the economy or Northern Ireland to drift".
Bathroom voyeur
On a similar theme, the Daily Mirror reports that a government fund set up to help volunteer groups has been axed because of the ongoing Stormont crisis.
The Volunteering Small Grant scheme has ended because "the scheme has not been put in place in the absence of ministers and in light of ongoing financial constraints", said a Department for Communities spokesperson.
The news was described as "devastating" for volunteer groups.
Inside the Belfast Telegraph, meanwhile, is an exclusive interview with a woman who has spoken for the first time of how she rebuilt her life after becoming the victim of voyeur who filmed her in a bathroom.
Karen Taggart waived her right to anonymity to tell the Belfast Telegraph about the post-traumatic stress disorder she has suffered since her ordeal.
She hopes that by coming forward, she will encourage others to get the help they need.
'Apologise and listen'
Earlier this week the papers extensively covered the story of Peadar Heffron, a former PSNI-officer who was seriously injured in a car bomb in 2010.
Mr Heffron, who had his leg amputated after the bomb, claimed he had been ostracised by his former GAA club after joining the police force and spoke of his hurt at the organisation.
His comments were made to prominent GAA pundit Joe Brolly who now says Mr Heffron's former club, Creggan Kickhams GAC, owe him an apology, the Irish News reports.
Writing in his Gaelic Life column, Mr Brolly said that "a club delegation should ask to go meet him, to apologise and listen".
Peadar Heffron's story also appears in the News Letter, which reports that reconciliation campaigner Trevor Ringland has offered to take a cross-community delegation for a private meeting with Creggan Kickhams.
Mr Ringland said the situation described between Mr Heffron and the club was appalling and that he wanted to "see if we could play a constructive role".
However, Sinn Féin's Declan Kearney, a cousin of Mr Heffron, said Mr Ringland's remarks were a "disgraceful attempt to discredit me and foment divisions with the GAA family".
Workout against cancer?
And finally, forget pills and antibiotics - Northern Ireland researchers are looking at whether exercise should be a prescribed medicine.
A group at Queen's University are taking part in an experiment to see whether workouts could help patients with advanced prostate cancer, the Daily Mirror reports.
The testing will bring together 150 researchers from around the globe.
"The overall aim is that exercise will be prescribed alongside traditional treatment such as radiotherapy and chemotherapy at a global level," said Dr Gillian Prue, from Queen's University.