'Staff problems' force Rathowen Nursing Home closure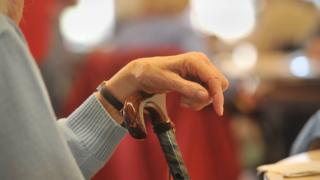 A County Armagh nursing home which has been running for 42 years is to close at the end of the month.
Rathowen Nursing Home in Tandragee has 16 patients and 30 staff.
Its management have said the closure is due to difficulties in recruiting and retaining nursing staff.
Aidan Hanna, of Patients' Voice, said the home is currently in an enforcement action process with the RQIA - the body responsible for the quality of health and social care services in NI.
"This is going to be a serious upheaval trying to find these 16 patients alternative nursing homes within the Southern Trust area," he said.
Background checks questioned
"The [Regulation and Quality Improvement Authority] enforcement action is related to Rathowen's failure to provide evidence of a number of staff having Access NI background checks when the RQIA carried out their inspections.
"That's a very, very serious matter."
Mr Hanna said he had seen no evidence that nursing homes were having recruiting difficulties, adding that there were a vast number of care staff within Northern Ireland.
"Let's see if, going forward from today, the health trusts in Northern Ireland do possibly carry out an investigation to see whether these private nursing homes are having a difficulty recruiting staff," he said.
"If that is the case with a nursing home like Rathowen, that they are having difficulty recruiting staff, the health trusts should be stepping in without delay in providing emergency staff cover."
In a statement, Rathowen said: "It is with deep regret that we announce the closure of Rathowen Care Home within the next 28 days."
"The closure is due to ongoing difficulties in recruiting and retaining the skilled and experienced nursing staff required to run the home."