'Racist hate crime' attack on Belfast house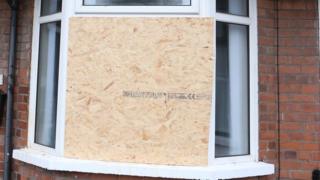 An attack on a house in north Belfast is being treated as a racist hate crime.
A brick was thrown at the front window of the house on the York Road on Thursday night. It was reported to police at about 22:20 GMT.
A woman and her young child were in the house at the time. Neither was injured.
It is understood the family is originally from Bangladesh. Police said a number of youths were involved in the attack and have appealed for witnesses.
"It is the responsibility of each and every one of us to ensure that we live in a society where diversity is respected," said a police spokesman.
On Tuesday night a Belgian man whose home was attacked in Wayland Street in east Belfast said he believes he was targeted because of his accent.
According to the latest PSNI statistics, there were 595 reported racist crimes with a person as a victim in Northern Ireland in the year up to 30 June 2017.
That was a drop of 162 on the previous 12 months.
The total number of racist crimes recorded in the year up to 30 June 2017 was 640, down from 790 in the previous year.
A total of 470 racist incidents not containing any crime were recorded - a rise of 39.