NI's bionic sportsmen - when humans and technology collide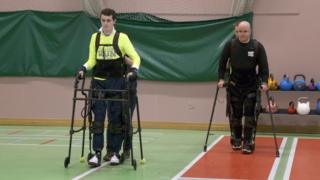 Successful sportspeople stretch themselves to the limit.
Mark Pollock has pushed many boundaries. But now it's a scientific frontier which he's exploring in search of a cure for paralysis.
He's been joined in the quest by another sportsman from Northern Ireland - Jonjo Bright, a jockey who is also tackling adversity head-on.
Commonwealth rowing medallist Mark was the first blind person to trek to the South Pole in 2009.
But the following year, he was paralysed from the waist down after falling from a second-storey window.
Since then, he has become a global pioneer in the use of robotic legs - the technology which he describes as "the intersection where humans and technology collide".
Exoskeleton suits are designed to enable those with lower limb disabilities to walk upright with the aid of crutches
Jonjo Bright was a promising amateur jockey when he suffered a severe spinal cord injury after being thrown from a horse at a point-to-point meeting in 2013.
He is also using an exoskeleton suit and is on his feet three times a week.
"At no point do I feel better than I do after I've been walking in the exoskeleton," Jonjo says.
"My blood pressure is lower, my muscles feel nice and loose, and it's good for you mentally too."
I met the two men in a sports centre in Dublin - the city where Mark now lives - to see them demonstrate how the extraordinary therapy is developing.
After trainers fasten up the Ekso Bionics suits, Mark and Jonjo push down on crutches and rise from their chairs.
After steadying themselves, they begin to take steps up the hall.
It basically works through sensors which pick up shifts in the user's weight - and then activate motors which drives the legs.
Mark has also been testing a technique which involves electrical stimulation of the spine.
In 2015 scientists at the University of California Los Angeles (UCLA) reported that he was the first person with chronic complete paralysis to regain enough control to actively take steps in the exoskeleton, while also having his spinal cord electrically stimulated.
He is looking to provide the opportunity for others to take part in the kind of research which he has been involved in.
So the next phase of the programme, funded by his charitable foundation, will set up more scientific trials for people who have spinal cord injury.
Mark, who is originally from Holywood in County Down, is well aware of the power of his remarkable life story - and its potential to generate worldwide support for the cause.
"If I could see or walk, I'd take that every time, but that's not the case," Mark says.
"What I'm trying to do is explore a way of finding a cure for paralysis, and on the way we're meeting scientists who work on the blindness as well.
"So if you take the blindness and the paralysis out of it, we're in an exciting time right now."
He's particularly looking forward to his charity's annual global fundraiser, Run In The Dark, which is taking place in 50 cities across six continents this month.
Common challenges
Jonjo Bright, who lives in County Antrim, became more aware of Mark's work after he was paralysed four years ago.
Through their common challenges, they have struck up a valuable friendship and a mutual vision.
"Throughout the world, I believe there are the people, the technology and the science to beat paralysis," Jonjo says.
"Mark's team is trying to bring all this together- I think it's great."
The men personify determination, hope and strength - as they pursue a prize which means more to them than any sporting accolade.