NI Paper Review: Adams reveals abortion views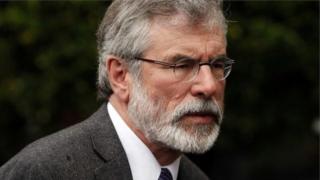 Sinn Féin president Gerry Adams' views on abortion feature heavily in Monday's papers.
Mr Adams revealed to The Irish Times at the weekend that it was his "personal position" women should have the right to choose whether or not to access an abortion.
The papers are quick to point out that his statement is at odds with the official Sinn Féin stance.
Abortions are illegal in Northern Ireland except for cases where the woman's health is at risk.
Sinn Féin currently supports changing the law in Northern Ireland only in cases of sexual crimes and fatal foetal abnormality.
The News Letter reports that moves to liberalise the party's stance on the issue have created "tension".
Out of step?
The Irish News has spoken to former MLA Francis Brolly, whose wife, Anne, left the party because she disagreed with a change in its policy on the issue in 2015.
Mr Brolly said he was "not surprised" by Mr Adams' views.
The Belfast Telegraph claims the comments "could signal a change in Sinn Féin's abortion policy".
It also reports criticism from People Before Profit MLA Gerry Carroll, who asks why Mr Adams had chosen to reveal his position now.
"Is it because there is a movement growing on both sides of the border for abortion rights and his party is dreadfully out of step?" he said.
Mr Carroll said some would find Mr Adams' statement "hard to stomach" because of criticism by Sinn Féin in the past against those in favour of legalising abortion in Northern Ireland.
Also in the Belfast Telegraph is in an interview with the girlfriend of County Antrim man, Matthew Bradley, who was killed in a car crash in Liverpool on Friday night.
Rhiannon Williams told the paper she had received a message from the 24-year-old minutes before he was struck by a car.
"I don't think I will ever get over him," Miss Williams said.
"He was kind and caring and so funny.
"He was such a gentleman, he was always in contact with me, we were really in love."
The News Letter leads with TUV leader Jim Allister's "demand" that former deputy speaker Caitríona Ruane repay money she was given after leaving the Northern Ireland Assembly.
The former South Down Sinn Féin MLA reportedly received a £24,500 "golden handshake" after choosing to stand down as an MLA in March.
The paper says there is "no suggestion that Ms Ruane has broken any rules".
Sinn Féin said Ms Ruane was not an MLA after March and any arrangements made with the assembly were "her own affair".
In the Irish News there is a renewed call for more powers to evict residents of Belfast's Holylands.
Residents in the mainly-student area have called for measures to make it easier for landlords to evict tenants accused of anti-social behaviour.
'Disgrace'
It comes after cars were damaged and fires were set in the area during Halloween celebrations.
Ray Farley, chair of the Holylands Regneration Association, said antisocial behaviour was "ongoing every year".
"It is a disgrace the state that the area is allowed to get into," he said.
Mr Farley said Freshers' week, Haloween and St Patrick's Day were the worst times for anti-social behaviour, but that noise was an issue every week during term time.