'Taigs Out' sign treated by PSNI as hate crime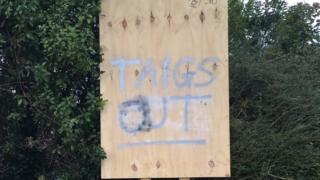 The appearance of a sign daubed with sectarian graffiti in County Down is being investigated by police as a hate crime.
The PSNI said it first received a report about the sign on the Dundrum Road, Clough at 15:50 GMT last Wednesday.
It added that it also received reports on Friday evening and Monday morning.
"Hate crime, in all its forms, is totally unacceptable," the police said in a statement.
"It is the responsibility of each and every one of us to ensure that we live in a society where diversity is respected."
The police have appealed for information.
Meanwhile, an Ulster Unionist Party councillor has said he was "absolutely sickened" after damage to poppy wreaths placed at the site of the Narrow Water bombing, near Warrenpoint, in County Down.
Eighteen British soldiers died in the 1979 IRA bombing.
David Taylor said the latest incident was "one in a long line of many attacks on wreaths laid at this location".
"This is appalling behaviour which will only serve to further compound the pain of the loved ones of the service personnel who lost their lives at Narrow Water in August 1979."
He appealed for anyone with information to contact the PSNI.