Antrim Road, north Belfast, device was pipe bomb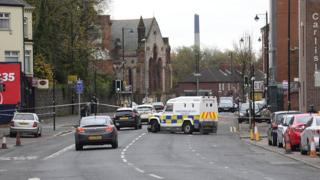 A device found by workmen clearing drains in north Belfast on Monday was a viable pipe bomb, police have said.
A number of residents had to leave their homes in the Antrim Road area during the alert.
Part of the road was also closed for a time before the device was removed by Army bomb disposal experts.
Police said it had caused "significant disruption" to commuters at a busy time of the day.
"This was a reckless act by those responsible, who showed blatant disregard for the community by leaving a viable device in a busy and built-up area," Insp Paul Rowland said.
"Thankfully, no one was injured.
"The overwhelming number of people in the community do not want this type of activity and we, as a police service, will continue to work to bring those responsible before the courts."