Belfast Flybe flight lands without nose gear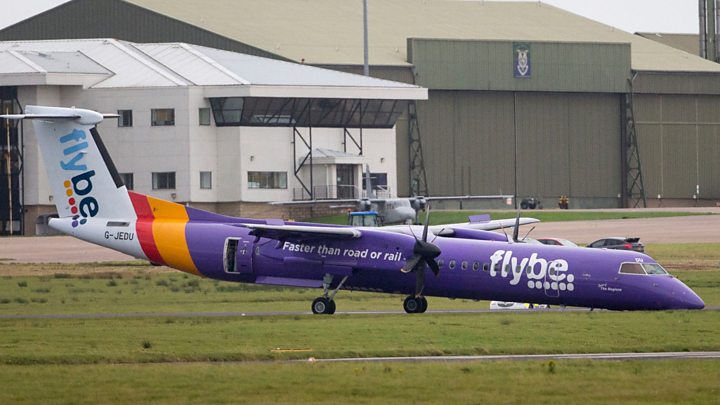 A Belfast passenger plane has landed without nose gear after it experienced "technical issues" and circled for more than an hour above the Irish Sea.
Fifty-three passengers and four crew members were on board the Flybe flight BE331 from Belfast City Airport to Inverness, which had to be diverted.
It landed at Belfast International Airport at about 13:30 GMT.
The airline said one passenger was taken to hospital with "a minor hand injury" but no-one else was hurt.
'Difficult manoeuvre'
"Flybe can confirm that there has been an incident involving one of our Bombardier Q-400 aircraft, flight no BE331 which landed with no nose gear in place," its statement said.
The Dash-8-400 aircraft was scheduled to leave Belfast at 11:05 GMT and was due to land in Scotland at 12:10.
Shortly after take-off, the pilot identified a problem with the landing gear.
The flight circled in a holding pattern for over an hour near Belfast Lough, before the crew declared an emergency and diverted to Belfast International Airport.
The airport's operations director, Alan Whiteside, has praised the actions of the captain.
"It was obvious on the [runway] approach that the nose wheel was not down and therefore he did have a problem," Mr Whiteside told the BBC's Evening Extra programme.
"A superb bit of flying on behalf of the flight deck crew.
"They landed the aircraft, touched down on the main wheels, held the nose of the aircraft up to the very last minute to bleed off the speed.
"Then when the nose dropped, they were able to control it in a safe landing on the runway."
Mr Whiteside added: "It was stressful for the crew, but it was probably just as stressful for the passengers."
He told the programme that the "only injury was a sprained thumb, with one of the passengers".
The damaged plane blocked the runway, but Mr Whiteside said that because there are two runways at Belfast International, the airport was able to continue operating.
The Air Accidents Investigation Branch (AAIB) said it was sending a team to Belfast International Airport to investigate the incident.
The pilots have also been praised by the British Airline Pilots' Association (BALPA).
"Landing without a nose gear is a very difficult manoeuvre, but one pilots train extensively for," BALPA tweeted.
The Flybe pilots "appear to have done a sterling job", it added
The airline said its "primary concern is for the welfare of the passengers and crew".
"We are sending a specialist team to Belfast to offer assistance and we will now do all we can to understand the cause of this incident."
Fire crews were on standby at Belfast International Airport for an emergency landing, according to Northern Ireland Fire and Rescue Service (NIFRS).
"The aircraft has landed safely. No action required from NIFRS at the scene," it tweeted.
A number of flights were delayed for a time after the incident.