Omagh alert 'attempt to disrupt Remembrance Day'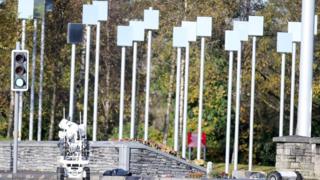 A security alert that postponed a wreath-laying ceremony in Omagh earlier was caused by a viable pipe bomb type device, police have said.
Police Service of Northern Ireland (PSNI) Chief Constable George Hamilton said police were following a "strong line of enquiry" that dissident republicans were responsible.
The alert began after the discovery of a suspicious object on Drumragh Avenue.
The rest of the Remembrance Sunday service was able to go ahead.
Cordons were in place at Drumragh Avenue, Mountjoy Road, Sedan Avenue, George Street and High Street. The alert has now ended.
The PSNI Chief Constable said that the device was "left to cause maximum disruption" to the commemorations and described it as "sickening and appalling".
"This is the action of a small and callous group of violent people who have nothing to offer our communities other than fear and intimidation," he said.
"Whilst our investigation into the incident is at a very early stage, one strong line of enquiry is that violent dissident republicans are responsible.
"Their actions today have demonstrated the disregard and disrespect they have for this community, which has already suffered so much pain and hurt at the hands of terrorists."
In 1998, a Real IRA bomb in Omagh killed 29 people.
DUP MLA Tom Buchanan said he believed the planting of the pipe bomb was a "re-run" of the Enniskillen Poppy Day bomb 30 years ago that resulted in the deaths of 12 people.
"Innocent men, women and children's lives were taken and maimed with a similar type of device at that particular time," he said.
"And, again, I find it very difficult to get words strong enough to condemn those that are responsible for planning and pre-meditating such an attack."
Ulster Unionist councillor Chris Smyth said those responsible were cowards.
"It's always going to hurt an awful lot when people come to remember their dead and they come with wreaths, they come with a very clear idea of what they want to do," he said.
"Then, because of the actions of a few very sick and very cowardly individuals, they're stopped from doing that."
The Sinn Féin MP for the area, Barry McElduff, said everyone had the "unfettered right" to remember their dead.
"Whoever decided to leave a package in this area, a suspicious package, obviously has shown complete disregard for everyone in the community," he said.