Castle Gardens Primary School 'hit by meteorite'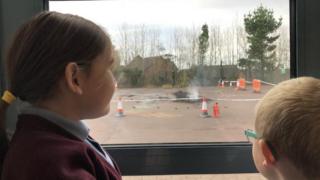 A County Down school has staged a meteorite strike in its playground.
The fake strike, intended to teach children about space, was discovered by pupils at Castle Gardens Primary School in Newtownards on Monday morning.
Staff, parents and a local business spent the weekend setting the scene.
The school's principal, John Gray, said it would also help pupils who sat their first transfer test paper on Saturday to think about something else.
Staff and parents used a granite boulder and trees that were damaged during storm Ophelia to create a scene of devastation in the playground.
A tarmac company provided and transported the "meteorite" and altered the school playground.
The PSNI also went to the school to respond to the "emergency".
Mr Gray said that staging the strike would have a number of benefits for the pupils.
"It gives the children the chance to experience and imagine an event they'd otherwise only see on video clips or photographs," he said.
"We deliberately timed it to be the first Monday after the first AQE transfer paper so that pupils could take their minds off the test for a few hours.
"We're also getting our pupils to write news reports and blogs about the event, and the local Newtownards Chronicle newspaper will be carrying out a workshop teaching them how to write an effective news report.
"We're also asking pupils to use iPads to create videos about what happened.
"With so many negative stories about education budgets, this is an example of the lengths that some schools and their local communities go to to ensure the best learning opportunities to children."
Teacher Heather Hutchinson came up with the idea after seeing it enacted at a school in England.
"We are trying to think outside the box and get the children motivated about their learning," she said.
Michael Paul, a parent who spent Saturday in the school playground helping to create the scene, was delighted with the result.
"It's a great idea, and one the children will remember into adulthood," he said.
"It may be a hoax, but it's been great fun and has brought the school community together."
Thankfully, the school's classrooms were undamaged by the "strike".