EgyptAir in deal to buy 24 Bombardier C-Series planes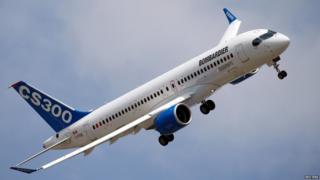 EgyptAir intends to buy up to 24 of Bombardier's C-Series planes, the aerospace firm has said.
The airline has signed a letter of intent for 12 firm orders, with an option for a further 12.
The book value of the deal would be $2.2bn (£1.7bn) if EgyptAir buys all 24 planes, though in practice the airline can expect a discount on that price.
C-Series wings are made at Bombardier's Belfast operation, providing employment for about 1,000 people.
Earlier this month an unnamed European airline said it intended to buy at least 31 of the C-Series planes.
Last month, Airbus agreed to take a majority stake in the C-Series project.
Bombardier has faced a series of problems over the plane, most recently a trade dispute in the US that imposed a 300% import tariff.
Bombardier was accused of anti-competitive practices by rival Boeing, which complained to the US authorities.
Boeing accused the Canadian firm of selling the jets below cost price after taking state subsidies from Canada and the UK.