Almost 7,000 women in NI had vaginal mesh implants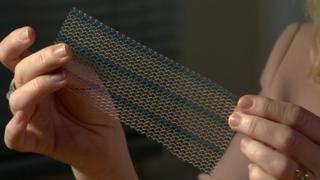 Almost 7,000 women in Northern Ireland have had vaginal mesh implants in the last decade.
The figures released by the Department of Health cover the period from 2005 to 2015.
The number is higher than previous figures, which indicated that the procedure was used in more than 4,000 operations from 2006 to 2016.
A growing number of women are asking for use of the mesh to be suspended.
BBC News NI has learned that a number of gynaecologists in Northern Ireland have visited their counterparts in England to observe doctors remove the mesh in especially complicated cases.
According to the Health and Social Care Board (HSC), these visits are routine for clinical staff.
In the past six months, the mesh debate has stepped up a gear, with campaigns and lobbying happening in London and Belfast.
With thousands of men and women affected, there have been calls for a public inquiry and for the suspension of the use of mesh devices.
While the majority of women will not suffer complications from the procedure, it is not known exactly how many people in Northern Ireland are currently experiencing problems.
Part of the issue is that each health trust collects the data on removal of the mesh differently.
However, the NI Sling the Mesh campaign currently has more than 400 members.
On Wednesday, a Sinn Féin delegation met representatives from the Department of Health.
Sinn Féin MLA Órlaithí Flynn said she was satisfied that the issue was being taken seriously.
"There was a broad range of issues discussed with the permanent secretary, including women having access to full mesh removal in Northern Ireland, as well as having access to 3D scans to assess where the mesh is."
Last month, Kath Sansom, a campaigner for Sling the Mesh in the UK, visited Belfast to meet women who have had the operation.
She said the women "need to be heard and taken seriously".
"The latest studies show at least 10% of women suffer - that is a vastly underestimated figure," she added.
In Scotland, some hospitals have temporarily suspended using the material.
In a statement to the BBC, the HSC Board said it and the Public Health Agency have been working to ensure that women who are experiencing problems with vaginal mesh implants have a clear pathway to treatment.
"In July this year, we advised these women to speak to their GP and ask to be referred back to the trust where the surgery was performed.
"The trusts, in turn, have arrangements in place for these women to be seen promptly by a consultant with an interest in urogynaecology.
"The advice to clinical staff in Northern Ireland is that they should discuss all relevant treatment options with each patient, and agree with each patient, the treatment that is most appropriate for the patient's particular clinical needs."
According to the health board, it is also currently exploring the possibility of establishing a vaginal mesh centre here.
"We plan to maintain close working relationships with a vaginal mesh centre in GB to ensure ongoing quality assurance and development of vaginal mesh services here and offer women the best possible standard of care."
Meanwhile, Susan McLarnon, from south Belfast, said she and others like her, want action.
"We want fixed by experienced surgeons who have done a lot of these operations.
"Ultimately we want the mesh banned," she added.