Sinn Féin to vote on liberalising abortion stance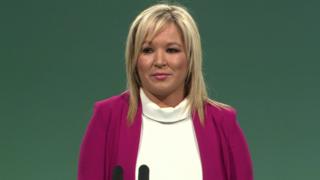 Sinn Féin members are set to vote on the possibility of liberalising the party's policy on abortion.
A motion will be put to allow abortions in cases when "a woman's life, health or mental health is at serious risk or in grave danger, fatal foetal abnormality and rape or sexual abuse".
Michelle O'Neill will back the motion which will set the party policy for both NI and the Republic of Ireland.
The vote will take place at the ard fheis (annual conference).
The motion also re-asserts opposition to the criminalisation of women who have abortions.
The party changed its policy in 2015, when it said women should have access to terminations in cases of fatal foetal abnormality.
The party has previously backed abortion in relation to incidents of sexual crime.
The latest motion from the party's ruling executive (ard comhairle) is seen as a further liberalisation of policy because of the reference to a serious risk to a woman's life, health or mental health.
'Troubled circumstances'
However, Mrs O'Neill, Sinn Féin's Stormont leader, is not backing another motion on the agenda, which calls for women to have access to abortions in the first 12 weeks of their pregnancies.
That is in line with a recent recommendation from an Irish Citizens' Assembly.
The assembly considered what might replace the 8th amendment to the Irish Constitution which currently bans abortions in most circumstances.
Ireland is due to hold a referendum on whether to change the country's laws on abortion in either May or June 2018.
Mrs O'Neill told BBC Radio Ulster's Inside Politics she thought the ard comhairle's proposed policy was "a fair position, the right position, which supports people who find themselves in troubled circumstances".
Irish language act
However, she will not support a motion to allow Sinn Féin members a conscience vote on the issue.
On the continuing failure to restore the Stormont executive, Mrs O'Neill said she believes the British government could resolve the stalemate over issues such as an Irish language act by bringing forward Westminster legislation.
"Ideally, we would much prefer that we were able to resolve these issues here," Ms O'Neill said, "but if that's not the case, then clearly the two governments as co-guarantors have a responsibility.
"The British government signed up to an Irish language act so, of course, the natural step would be that they should deliver it."
'Not ideal'
Mrs O'Neill denied she was advocating a form of direct rule.
Mrs O'Neill acknowledged "it's not an ideal situation, it's not where we want to be, but in the absence of being able to secure an agreement here in the executive, if this is something which paves the way towards enabling the executive to be established then that's what should happen".
While the Sinn Féin leader would like London to break the logjam in this way, she did not sound hopeful that UK ministers would accept her proposal.
"The British government has a role to be rigorously impartial," she told Inside Politics, "and they have shown that not to be the case".
In her address to Sinn Féin's ard fheis on Friday evening, Mrs O'Neill began by paying tribute to her late colleague, Martin McGuinness, who died in March, and mentioned him several times during her speech.
'Symbolic importance'
Referring to his decision to quit as deputy first minister - a move which brought down the Northern Ireland Assembly - she said: "Martin McGuinness did the right thing at the right time."
She told delegates that Sinn Féin "remains committed" to devolution and she wants to lead her party into a new executive at Stormont, one that would represent "genuine, equal partnership government".
"We know that locally elected ministers are best placed to take decisions in relation to public services," she said.
But she criticised the Democratic Unionist Party (DUP) and argued that their "denial of basic rights" in respect of the Irish language and same sex marriage was "not acceptable".
She claimed that the failure of the latest round of talks at Stormont was "in large part, predetermined by the Tory and DUP pact, that was developed to keep them in power".
"Theresa May and her party have acquiesced in their own self-interest to the DUP, by blocking the equality agenda, denying rights which are the norm in other parts of these islands."
Mrs O'Neill added that an Irish language act has both practical and symbolic importance for nationalists in recognising and respecting their sense of identity.
"If the DUP, or anyone else, wish to exercise political power in government in the north of Ireland now or in the future, then the cost is to embrace a rights-based society and equal partnership in a government which works for everyone," she said.
A Sinn Féin delegation is due to meet Prime Minister Theresa May next week to discuss Brexit and the Stormont deadlock.
On Friday evening, delegates at the ard fheis voted in favour of a motion to hold a special conference on going into coalition government in the Republic of Ireland
The motion stated that the decision to go into government would be based on the party's "ability to secure a progressive, republican programme for government".
The motion passed after a show of hands indicated approximately two thirds in favour.
Sinn Féin deputy leader Mary Lou McDonald said the party is determined to implement its policies in government, north and south.