Gerry Adams to outline political future at Sinn Féin conference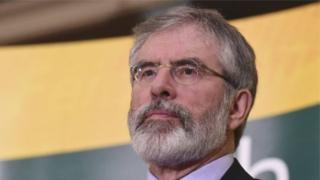 Sinn Féin president Gerry Adams is expected to set out a plan to step down from party leadership later.
Mr Adams, who has led Sinn Féin since 1983, will speak at the party's ard fhéis (annual conference) in Dublin.
It is expected that Mr Adams will not step down immediately but will outline his transition from leadership.
Delegates at the conference have voted in favour of a motion to hold a special ard fhéis three months after the departure of the party president.
The motion will allow for a leadership contest once a vacancy arises.
Abortion vote
Delegates also voted to liberalise the party's policy on abortion.
Party members voted in favour of allowing abortions where a pregnancy poses a risk to a woman's health, including mental health.
There will be a referendum on abortion law in the Republic of Ireland in May or June of next year.
Sinn Féin's previous position supported allowing terminations when a baby is expected to die in the womb or shortly after birth, and in cases of rape or incest.
Currently, the law in the Republic of Ireland only permits abortion when there is a real and substantial risk to a woman's life. In Northern Ireland, terminations are only legal when continuing with a pregnancy poses a serious or permanent risk to a woman's health.
Meanwhile, Sinn Féin's Stormont leader has called on the Irish government to appoint a minister with responsibility for advancing Irish unity.
Michelle O'Neill told the party conference that a parliamentary committee in the Republic of Ireland should also be formed to look at a united Ireland.
In September, Mr Adams said he would set out his "future intentions" if re-elected party leader at the conference.
Mr Adams also said that a 10-year plan for "orderly leadership change" was being finalised.
He said the plan had previously been outlined by former deputy party leader Martin McGuinness, who died earlier this year.
The party conference opened on Friday.
Brexit and the ongoing political deadlock over power-sharing in Northern Ireland are expected to be major topics of discussion.
The Democratic Unionist Party (DUP) and Sinn Féin have failed to reach agreement in restore a power-sharing government at Stormont despite numerous rounds of talks since March's assembly elections.
The Stormont government collapsed in January.
---
Analysis: Chris Page, BBC News Ireland correspondent
Gerry Adams has been one of the most significant and divisive figures in Irish politics for almost half a century.
Security sources believe he was senior IRA member during the Troubles but Mr Adams has always denied being in the organisation.
He became known worldwide as the face of the republican movement during its transition from violence to peace.
His leadership won't be ending straight away but he has said he'll reveal more about a plan for change he'd agreed with his long-term ally Martin McGuinness, before Mr McGuinness' death earlier this year.
Part of that plan has already been put in place with the appointment of Michelle O'Neill to lead the party at Stormont.
---
Opening proceedings on Saturday morning, the party's deputy leader Mary Lou McDonald said that "agreement can only be secured and institutions re-established on a sustainable basis when agreements previously agreed to are honoured by all".
Later, Mrs O'Neill told the conference that the "Irish government has a clear responsibility" regarding a united Ireland.
"It needs to bring forward a political plan to unite and reinvent the country in the modern era," she said.
"The government should publish a green paper on Irish unity, which indentifies the steps and measures that are for a successful transition to a United Ireland."
She added that the government should establish a government committee on Irish reunification and a government minister with the "dedicated and specific responsibility of developing strategies to advance Irish unity".
Mrs O'Neill also told the conference that Brexit was "an act of political vandalism" that would be a "disaster" for Northern Ireland.
The conference also heard from Jordi Solé, a Catalan MEP, who spoke about the region's independence movement.
Later on Saturday, party members could vote to liberalise Sinn Féin's policy on abortion.
A motion will be put to allow abortions in cases when "a woman's life, health or mental health is at serious risk or in grave danger, fatal foetal abnormality and rape or sexual abuse".
Mrs O'Neill has said she will support the motion, which will set the party policy for both Northern Ireland and the Republic of Ireland.