Northern Ireland at crisis point, says Richard Haass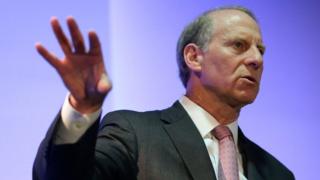 Northern Ireland politicians who backed Brexit made an "historic mistake" that contributed to the crisis at Stormont, a senior US diplomat has said.
Richard Haass chaired political talks in Northern Ireland in 2013.
The current impasse at Stormont is due to Brexit, poor leadership and a failure to deal with the past, he said.
He claimed the negotiations lack "big leadership" and the government cannot get too involved because it is "wedded" to the Democratic Unionist Party (DUP).
Northern Ireland has been without a devolved administration since January, when the governing parties - the DUP and Sinn Féin - split in a bitter row over a botched green energy scheme.
Numerous rounds of talks have been held, with the latest phase ending without an agreement last month.
Sinn Féin's demand for legislation to give official status to the Irish language is viewed as the main dividing issue.
The government has since stepped in to implement a budget for Northern Ireland in the absence of minister at Stormont.
Dr Haass said there is no-one within unionism or nationalism with the ability to "make compromises and to sell those compromises to the public".
"I don't see anyone who has the standing of Ian Paisley on the unionist side or Martin McGuinness and Gerry Adams on the nationalist side, that's the problem," he said.
Dr Haass said the government is in a "difficult position" but most of the "heavy lifting" in negotiations must be done by Stormont politicians.
"The Sinn Féin leadership is fairly new and untested and the DUP leadership is in a difficult situation given the investigation into their past practices and their proximity to the British government," he said.
He added that even if devolution at Stormont did return people should not think "that is the answer".
"I worry about the inability to deal with the past and to deal with some other basic day-to-day questions and how people will deal with the fallout of Brexit."
'No automatic entry'
DUP MP Nigel Dodds said Mr Haass had "failed" when he was in Northern Ireland to break a previous Stormont deadlock, then over parades, flags and the legacy of the Troubles.
"His efforts didn't succeed - some people blamed his leadership skills in that," said the North Belfast MP.
Mr Dodds said ministers should be appointed at Westminster to take control of Northern Ireland affairs while Stormont is in "limbo".
"It doesn't mean that we give up on the search for devolution - we still have to have consultation with Stormont assembly members," he added.
Sinn Féin's John O'Dowd said there would be no "automatic entry" by his party in any new talks aimed at restoring the Northern Ireland Executive.
"We have sat round the table over a period of nine months... and there was no advancement towards a deal," added the Upper Bann MLA.
"We need a talks process that has the potential to deliver - we do not want another phase of non-ending talks, which give the perception of movement and dialogue.
"That is only, in my opinion, damaging politics."