Statute of limitations plan 'unhelpful'- Simon Coveney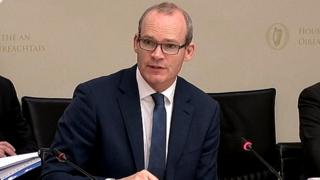 The Irish foreign minister has said the inclusion of the issue of a statute of limitation to consultation on the legacy of the Troubles is unhelpful.
Simon Coveney was giving evidence to an Irish parliamentary committee on the implementation of the Good Friday Agreement.
He criticised the decision to widen the consultation to include ideas not in the Stormont House Agreement.
Mr Coveney said he would speak to NI Secretary James Brokenshire about it.
He said the decision had the "potential to undermine consultation from day one".
Conservative and unionist MPs want a "statute of limitations" to prevent security force members being prosecuted for alleged offences from the early years of the Troubles.
However, Sinn Féin has expressed concern about the decision to ask the public what they thought about a statute of limitations in consultation about the Stormont House Agreement.
'Maybe they weren't listening'
On Brexit, Mr Coveney rejected assertions that the Irish government had been reckless in its insistence that Northern Ireland should continue to implement rules and regulations consistent with the European Customs Union.
Mr Coveney said the Irish stance on Brexit has not changed, but some people appear to have had the impression that when Dublin came under pressure, it would back off.
"Maybe they're surprised that's not happening, maybe they weren't listening," said Mr Coveney.
He said that Dublin is not alone, but benefits from a lot of solidarity from Michel Barnier's EU Brexit taskforce, which is aware of the potential exposure and vulnerability of Ireland in the event of a bad Brexit.
Mr Coveney said the Irish government is in almost daily contact with the taskforce.
He told the committee, which includes some Northern Ireland MPs as well as Irish parliamentarians, that the UK needs to accept that regulatory divergence between the two jurisdictions in Ireland after Brexit would make north-south cooperation very difficult to implement in practical terms.
The Irish foreign minister said that ideally Dublin would like to see the UK become part of an extended and redesigned European Single Market which would deal with both customs and other regulations.
Mr Coveney said good progress had been made on the retention of a British-Irish common travel area, but many problems remain regarding the border and continuing north-south co-operation.
The minister said it will require "a lot more work" over the next three weeks if Dublin is to be part of a decision to enable the UK-EU Brexit talks to move on to trade matters.