Ulster University facing 'critical' funding cuts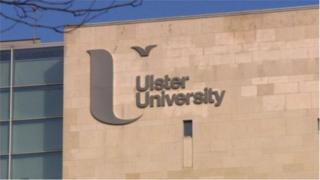 Ulster University (UU) faces "critical" funding cuts from the Department of the Economy (DfE) over the next two years.
The warning comes in a letter from the university's vice-chancellor to the leaders of Northern Ireland's political parties and the secretary of state.
The letter has been obtained by the BBC.
Professor Paddy Nixon said that UU had been advised by DfE that it was facing a 3.5% cut in funding in 2018/19 and a 4.5% cut in 2019/20.
"Whilst the current situation is unsustainable the prospect of further cuts communicated by the department has turned a serious situation into a critical one," he wrote.
The letter is also signed by the chair of UU's council John Hunter.
It has been sent to the leaders of Sinn Féin, the DUP, SDLP, UUP and Alliance as well as James Brokenshire and the UK Universities Minister Jo Johnson.
UU received £70.8m in core funding from the Northern Ireland Executive in 2016/17.
This was cut by 2% in 2017/18 and now faces the further cuts outlined by Professor Nixon.
He said this meant a cumulative reduction of almost 10% over three years.
In his letter, he said that the situation "has now reached a tipping point and our ability to deliver higher education in Northern Ireland is being seriously challenged".
"Without adequate financial investment we will be unable to maintain existing commitments, let alone expand," he said.
"Moreover, Ulster University is not funded to support a multi-campus structure which costs, when compared to a single-campus proposition, an additional £15m per annum to deliver.
"Our continued commitment to multiple campuses and the lack of a rates discount (which is available to universities in GB) places further strain on our university."
He also said that UU's public funding was on average £27m less than similar universities in England, and that the university would have to make "fundamental changes" to its shape and size if the situation continued.
While Professor Nixon called for politicians to find "appropriate funding solutions", he does not specify if this would include a rise in student tuition fees.