Dominic O'Connor jailed for killing and cooking dog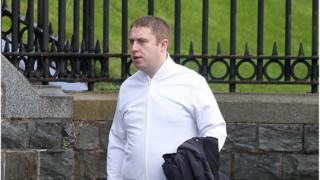 A County Down man convicted of killing and cooking a dog has been sentenced to two years in prison.
Dominic O'Connor strangled his four-year-old collie, Jess, with a lead before cooking her, using "a few onions and an Oxo cube" last December.
The 28-year-old then fed the stew to his other dog.
O'Connor, of Roden Street, Kircubbin, was found guilty of causing unnecessary suffering to a dog and banned for life from owning another animal.
At an earlier hearing, the court was told that he had bought the dog on GumTree, an online shopping site.
During police questioning, O'Connor told officers how he strangled Jess with a lead, adding: "Then I cut it up and cooked some of it and fed it to the dog with a few onions and an Oxo cube and salt and pepper."
He then put the dog's remains on the fire, and dumped the ashes into Portavogie harbour.
'Grate of the fire'
The incident was uncovered when he told hospital health professionals what he had done.
Police then visited his house, where they found burned dog hair and a liquid on the grate of the fire.
Sentencing him on Wednesday, the judge said this was a "particularly disgraceful and heinous offence".
He said O'Connor had misled the people from whom he got the dog, leading them to believe she would be nurtured and protected.
Instead, he said that it was clear that O'Connor was going to kill this dog and "inflict serious cruelty".
He said O'Connor's behaviour was "barbaric and calculated".
The judge added that O'Connor had raised questions about his mental health, but did not provide any medical evidence on which the court could rely.
He said he had displayed "no real remorse" and despite not giving evidence on his own behalf, O'Connor seemed to challenge the evidence against him.
The court heard that O'Connor had 23 previous convictions.
He was sentenced to two years in prison and a further two on licence.
As he was led from the dock a member of the public shouted abuse at him.
Last month, a jury of eight men and four women unanimously convicted him of causing unnecessary suffering to a dog.