Christmas cheer as pupils share meal with homeless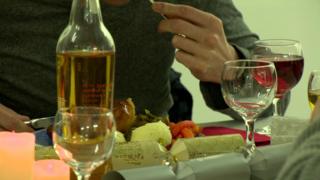 Glancing into the room, you are greeted with festive cheer. But looks can be deceiving.
For those enjoying Christmas lunch, these two hours are temporary respite from an often grim and unforgiving reality - homelessness.
About 20 guests gathered in an unremarkable building in Belfast city centre.
Pupils from St Mary's Christian Brothers' Grammar School in west Belfast served turkey, sausages, potatoes and vegetables to an orderly queue.
The youngsters were there to learn more about social deprivation.
The lunch forms part of a wider school programme.
Raymond Herron is the teacher overseeing the event.
"The boys are very aware of social injustices", he told BBC News NI.
"It gives them an opportunity to be actively involved and give a first-hand contribution to the homeless society in Belfast - hands on, serving them a meal, sitting with them and reminding them that they are still somebody."
Thirteen-year-old Eoghan is one of the pupils serving meals at the gathering.
"They're just normal people who've had a really unlucky roll of the dice," he said.
"They're really friendly and kind and it's different to hear some of their stories about where they come from."
One of the people Eoghan served lunch to is Craig: a former rugby-playing grammar schoolboy whose adult life spiralled into addiction, crime and mental illness.
He has been homeless for the past nine years.
He admits to being an alcoholic, but said he does not touch drugs.
Craig said he has found used syringes lying in communal showers in some hostels and blood smeared on the walls next to signs warning about diseases like hepatitis.
He is a good example of a homeless person in Belfast - rarely what you would expect.
We shake and hands and say goodbye. Christmas lunch is over and reality has returned for those about to head back into the cold.
It has been a sobering lesson for the pupils, but among the most important they will attend all year.