Dee Fennell acquitted of terrorism charges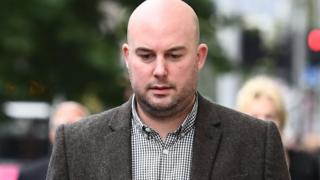 Belfast republican Damien "Dee" Fennell has been acquitted of terrorist offences arising from a speech at an Easter Rising event in Lurgan in 2015.
The judge at Belfast Crown Court said while some of Mr Fennell's words could be deemed offensive by "many right-thinking members of society", they were his personal opinion.
He said they did not amount to inviting and encouraging people to join the IRA.
Mr Fennell was tried by a a non-jury Diplock court in September.
He faced three charges - namely encouraging terrorism, inviting support for the Irish Republican Army and encouraging support for the IRA.
'Dedicated republican activist'
The charges arose from a speech delivered by Mr Fennell - who was introduced at the event as a "dedicated republican activist" - to a crowd of about 70 people on 5 April 2015 at St Coleman's cemetery in Lurgan.
The speech was later uploaded onto the Irish Republican Prisoner Welfare Association's YouTube and Facebook pages.
It was the prosecution's case that some of the words and messages that were said and subsequently published online amounted to both encouraging terrorism and encouraging support for the IRA.
A section of the speech criticised Sinn Féin for welcoming the Queen to Ireland, with Mr Fennell telling those at the cemetery: "The only welcome the IRA gave to a member of the British Royal family was delivered in a boat off the coast of Sligo."
Stating that this was a specific reference to the 1979 murder of Lord Mountbatten, the judge said that while there was "little doubt" most people would find these comments "deeply objectionable", it did not amount to encouraging or inviting support for the IRA.
When he was arrested a fortnight after making the speech, Mr Fennell declined to answer police questions, but a pre-prepared statement was handed to police on his behalf by his solicitor.
He made the case that he gave his personal opinion as opposed to encouraging anyone to engage in violence.
'Anti-monarchy'
Mr Fennell said the Sinn Féin rebuke and the anti-monarchy elements of the speech were his own personal opinion, and denied encouraging anyone to join the IRA.
He also declined to give evidence during the Diplock trial - a move the judge said had "effectively closed the door to any cross-examination".
Regarding the charge of encouraging terrorism, the judge said everyone had the right to freedom of speech in a democratic society.
Pointing out that Mr Fennell was not responsible for uploading the material, the judge said: "He is entitled to be acquitted on count one as he is entitled to free speech."
Acquitting Mr Fennell of the remaining two charges, the judge said: "However offensive the words used by the defendant might be in the ears of many right-thinking members of society, they were expressions of personal opinion, which did not invite or encourage support for the IRA."