Brexit deal: Difficult days ahead as DUP says 'no'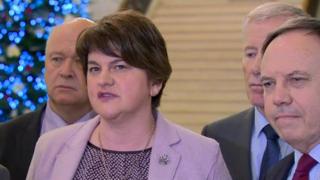 Last Friday, European Council President Donald Tusk visited Dublin and told British politicians that, whether they liked it or not, the key to the UK's future after Brexit lay in Dublin.
This week began with the DUP leader, Arlene Foster, reminding the EU, Irish Taoiseach Leo Varadkar and Theresa May that, whether they like it or not, her party holds some cards in the Brexit game.
The DUP says it never assented to any of the wording which leaked out of the Brexit discussions, whether it be "no regulatory divergence" across the island of Ireland after Brexit or "continued regulatory alignment".
Those words were meant to provide reassurance to the Irish government that, should the EU and the UK not be able to reach a trade deal, there would be a backstop that would guarantee trade across the border would continue pretty much as it does now.
It would mean Northern Ireland businesses adhering to the same standards and rules as their southern counterparts.
However, unionists tend to view with scepticism any proposal for harmonisation of rules on either side of the border.
They are concerned such an approach may be the thin end of a wedge towards Irish unity.
In addition, the committed Brexiteers among the DUP argue that if, over time, Northern Ireland diverges from the trading regulations applied elsewhere in the UK, it could create a barrier to trade within the UK and prevent Belfast benefiting from any deals London might negotiate in the future.
Show of strength
Perhaps if the parliamentary arithmetic had been different, the prime minister might have pushed ahead and signed a deal with the EU against the DUP's wishes.
But Theresa May needs the DUP's backing at Westminster.
If she had ignored their concerns, there's little doubt that the party's 10 MPs would have sat on their hands and not supported the Conservatives in important votes on the EU Withdrawal Bill this week.
Government negotiators have 10 days until the full European summit to try to placate the DUP and make progress towards the Holy Grail of phase two trade talks.
But that task has been complicated by the DUP's show of strength, the publication of the sensitive wording from the draft negotiating text and Leo Varadkar's public insistence that the British government had signed up to a formula which the DUP found so hard to swallow.
A deadline has been missed and difficult negotiations lie ahead.
In other words, we are back in a scenario with which the DUP, with all of its Stormont experience, is very familiar.