Nursing home's Christmas tree vandalised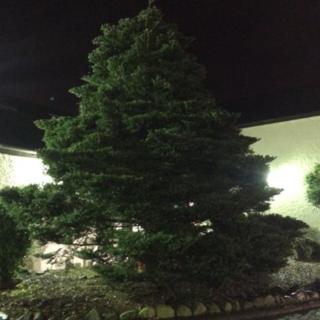 The residents at Clareview Nursing Home in Ballyclare were resting in the comfort of their communal room on Monday evening.
A few chatted amongst themselves, others sat quietly and content.
They are all still waiting for their Christmas tree lights to be switched on again.
The home's Christmas tree, just outside the main entrance, has been in darkness since a group of young people stole the lights at about 01:00 GMT on Sunday morning.
Manager Sharon Bell explained how the attack happened as staff were doing routine rounds while the elderly residents were asleep.
"They looked out and they could see young people outside and they were at the tree and they could see them pulling the lights off and running across the car park with them."
She added: "They were also setting off bangers."
Ms Bell said staff tried to reassure a few of the residents who heard the disturbance.
"A couple of them heard the commotion going on but they reassured them that everything was OK."
Staff at the home believe that there were up to five teenagers or young adults involved in the vandalism.
Ms Bell also said the tree was part of a Christmas lighting ceremony for the residents.
"They can't get down into the town to see the lovely trees all lit up, so... we're bringing it to them."
But their joy at seeing the Christmas tree illuminated had turned to sadness, she added.
"An awful lot of them were really disgusted at what had happened, couldn't believe that young people would actually do this, would actually spoil a Christmas for them," she said.
The residents at Clareview are aged between 78 and 97, and it is hoped the lights on their Christmas tree will be lit again by the middle of the week.