Marie Stopes is to close NI's first private abortion clinic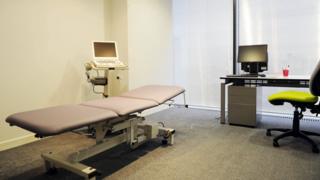 The first private clinic to offer abortions in Northern Ireland is set to close, because local women can now have NHS-funded terminations in England.
Marie Stopes said its Belfast clinic will shut on Friday, so it can concentrate on dealing with patients through its national referral service.
The clinic opened in 2012, offering medical abortions in early pregnancy.
Northern Ireland's abortion law is stricter than the rest of the UK. There were regular protests at the clinic.
Many of the demonstrations were led by the anti-abortion group, Precious Life, which said it was "celebrating" news of the clinic's closure.
Abortion is only legal in Northern Ireland if continuing a pregnancy would put a woman's life at risk, or pose serious long-term damage to her physical or mental health.
As a result or the restrictions, hundreds of women travel to Great Britain every year to access terminations.
'Ground-breaking'
In June, the Westminster government announced Northern Ireland residents would be given access to free abortion services on the NHS in England.
In October, the government said women on low incomes - those on less than £15,300 a year - would also be entitled to help with their travel costs.
The Minister for Women and Equalities, Justine Greening, also said she was introducing a "central booking service" so women from Northern Ireland could be referred to abortion providers through a single telephone number.
Marie Stopes UK described the government funding announcement as "ground-breaking," but added that it had also changed the way that patients accessed its services.
"Today more than three-quarters of the Northern Irish women we see, come to us directly via our national referral service," said its managing director, Richard Bentley,
"We expect this proportion to increase further now that treatment in England has been made more accessible."
Mr Bentley said the closure of the Belfast clinic would enable Marie Stopes to "focus its resources so that Northern Irish women can better access funded treatment in England".
The director of Precious Life, Bernadette Smyth, said Marie Stopes "has never been needed - nor wanted - in Northern Ireland".
"For the past five years, Precious Life has maintained a pro-life presence outside the office - sacrificing many hours in reaching out to abortion-minded women, thus saving countless lives," she said.
Ms Smyth described the closure as a "massive pro-life victory".