Sex assaults on under-18s almost double since 2011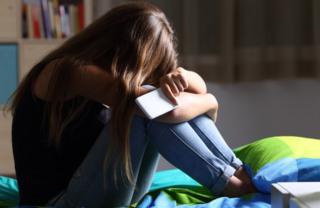 Sexual assaults on boys and girls under 18 have almost doubled since 2011 in Northern Ireland.
The police figures also show that more than half of all reported sexual assaults in NI last year were carried out on girls under the age of 18.
So why are children still so vulnerable to sexual predators? The police believe social media is playing a part.
"Children are more accessible these days," explained PSNI Det Supt Deirdre Bones.
"Parents would not open their door and let a stranger walk straight up the stairs and into their children's bedroom and, to me, social media can be like that.
"You don't know who your child is befriending - a child could accept a friend request from somebody who may be a lot older and from a different country in the world.
PSNI statistics
Sexual assaults on girls under 13 increased from 181 five years ago, to 345 last year.
There were less than 62 reported cases of sexual activity with boys and girls in 2011, rising to 220 in the same five-year period.
Startling accounts
"We are also seeing much more footage online and we are looking at people's phones and tablets and other devices as part of our investigations."
BBC News NI spoke to a group of sixth form students from Ashfield Girls' High School in Belfast about their experiences and the results were startling.
All of them had suffered some form of sexual harassment or assault in nightclubs or out walking with friends.
Some of the students also experienced harassment online.
Emma Dallas said: "I was really surprised to find all these message requests from loads of people who I have never met before.
"They said things like: 'Can I meet you in person?'
"I wouldn't have a clue who they are so I would just block them so that they could never get in contact with me."
The students we spoke to all have strict privacy settings and appear pretty clued-in when it comes to social media. But their descriptions of nights out were surprising.
Gina Harrington recalled a recent incident at a nightclub: "I was groped from behind and in front and it was extremely uncomfortable, but I removed myself from the situation immediately and I had my friends with me and they all took me away.
"I didn't even tell my parents because I was uncomfortable talking to them about it."
The men who normally behave this way are older, in Chloe Allen's experience.
"They're the age of my dad and they're rarely sober. And they're not very stable when they come up to you and grab you. It's a bit scary when you're trying to get away from them.
"I think older men see young girls as an easy target because they're not as emotionally mature and not as confident in turning people away."
Britany Alexander was 13 when a man in a car tried to pull her and a friend into his vehicle.
"He asked for directions and then said he didn't understand and told us to get in and show him. He was getting more and more aggressive.
"Our instinct was to run away. Looking back on it, I don't think about it every day but it does make you anxious when you're out."
Emma McCoy had a similar experience when she was 13.
"This man approached us in the street and kept trying to touch my friend. He was my dad's age and he wasn't aggressive but he was really forward and I think if I had been on my own I would have been much more scared."
With the exception of one incident, none of the girls reported any of the things that happened to them.
"Sadly I'm not surprised," said Cara Cash, chief executive of the counselling charity Nexus.
"Nexus see victims of sexual violence every day and we know these things are happening. I think the thing that is sad is that none of the young people who've spoken have ever told anybody."
Student Emma Dallas says the current debate about sexual assault and sexual harassment gives her confidence about the future.
"With the women and men coming out now, I would hope that it will be easier for women of our generation to speak out if anything happened to us."
You can see more on this story on BBC Newsline at 18:30 GMT on Wednesday.