Oisín McGrath death: Francis McDermott avoids jail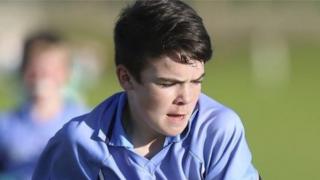 A student has been given a suspended sentence after a playground fight over a football resulted in the death of a 13-year-old boy.
Francis McDermott, 20, pleaded guilty to unlawfully killing Oisín McGrath, at St Michael's College, Enniskillen, in February 2015.
His 18-month prison term was suspended for three years.
Oisín's family said the sentence was "not proportionate" and their son would still be here if he had not been hit.
"We would like to make it clear that Oisín was in complete and full health when he was killed," his family added.
"There were no underlying conditions. He was not struck by a bottle or a ball, Oisín was intentionally struck by Francis McDermott and this action caused his death.
"Oisín paid the ultimate price with his life and we, without him, are left with our own life sentence."
'No animosity'
The court was told McDermott was among a number of sixth formers who chased a group of younger boys.
As was usual, they attempted to keep a football from the older pupils, one of whom was Francis McDermott, then a 17-year-old pupil, the court heard.
McDermott, from Camphill Park in Newtownbutler, grabbed at Oisín and gave him a moderate blow behind the left ear, but it burst a vein.
The 13-year-old died from a head injury three days after the incident.
His family said their son was an "amazing young person" and nothing would "ever be the same again".
In a statement, they referred to the impact of the court case and said the length of time it had taken to get to a guilty plea had caused "extreme stress and anxiety".
They also issued this plea: "We plead with all young people to think before they act, one strike can kill and sadly for Oisín and for us, it did."
Det Ch Insp Gareth Talbot echoed their words: "I would like to remind people that one spur of the moment action, whether it's at a school or in any other setting, can have long term and devastating consequences for all involved - the victim and also the perpetrator.
"I would urge people to think before they act, as one strike can kill."
'All-Ireland trophy'
The judge at Dungannon Crown Court said McDermott had not foreseen the catastrophic consequences of his actions.
The judge said: "There was no animosity, no intent to cause serious injury."
He said he was also "acutely aware" that there was no sentence he could impose which would offer "any comfort to Oisin's family for their loss of such a bright, energetic and loving boy, full of such potential".
He accepted McDermott's remorse was genuine, and not borne out of self-pity.
He said this was "one of those rare and wholly exceptional cases" and that sentencing had been difficult. The judge said Oisín "dreamed of lifting an all-Ireland trophy"
"It leaves the hearts of the family with a painful sense of loss for what might have been," he added.
"Oisín dreamed of lifting an all-Ireland trophy. I believe he may well have done so."
Dressed in a navy suit, McDermott kept his eyes down during sentencing, and gave little reaction. He sighed heavily as he stepped out of the dock towards his family.