Schlumberger workers seek help from politicians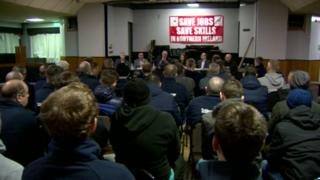 Workers at a Schlumberger factory in Newtownabbey have called for political parties to prevent the closure of the site.
Workers at the County Antrim plant met with politicians on Thursday.
The company has proposed closing the facility next year, blaming "a severe downturn" in the oil industry. About 203 jobs are under threat at the site.
It is running a 90 day redundancy consultation process which is due to conclude in February.
Declan Kearney from Sinn Féin was amongst the politicians at the meeting.
He called it a "disastrous decision" for the local economy and Newtownabbey.
"There is a huge onus on Invest NI to work with politicians and Unite union and the local community to ensure that these jobs, and this skill set is retained here for the benefit of the local community," he added.
'Highly-skilled workforce'
Ulster Unionist MLA Steve Aiken said: "The key about this issue is the skills that are here.
"These people are the nucleus of a very highly-skilled workforce that has been here for a very long time. Skills that Northern Ireland cannot do without.
"To loose this workforce will be a real problem for us going forward."
Davy Thompson from union Unite said he blames Donald Trump's trade policy for the proposals to close the American owned factory.
"What's going to happen is work is going to be put out to the low cost economies in terms of Mexico and China," he said.
"The higher skilled work will be taken to America in a protectionist type system that the Trump administration has been pushing for some time.
"We don't want to give out false hope - but we do believe that we have a process alongside management that we can put forward what would be a very competitive position for the Belfast site.
"It would be good for Schlumberger, the workers in the plant and Northern Ireland as a whole," he added.
In October Schlumberger said the oil and gas industry was going through "the most severe downturn of the past 30 years with operators significantly reducing their investment".
At the time it said it understood the impact of its announcement and the impact the proposal to close its Newtownabbey plant would have if it goes ahead.