Bombardier: Union lobbies US and Canada over jobs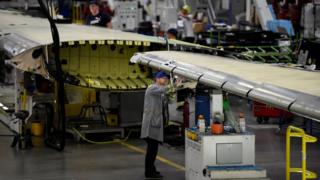 Members of the Unite union have travelled across the Atlantic in a bid to protect jobs at a Bombardier aerospace plant in Belfast.
It comes ahead of the US Department of Commerce's final determination on whether a 300% tariff should be placed on the firm's C-series passenger jet.
The delegation is due to hold meetings with trade unions and politicians in Montreal, Canada, and Washington D.C.
The Belfast plant produces various parts of the C-Series, including wings.
About 4,000 people are employed at the site and about a quarter of the workforce is involved in the C-Series project.
'Crushing Tariffs'
The Canadian-owned aerospace company is in a dispute with rival US firm, Boeing, over alleged below-cost selling of the C-Series.
On Sunday, the Unite union representatives are expected to meet Bombardier's Chief Executive , lain Bellemare, in Montreal.
Later in the week they are due to travel to Washington where they will lobby US politicians and the US Department of Commerce against enforcing "crushing tariffs" on the C-Series.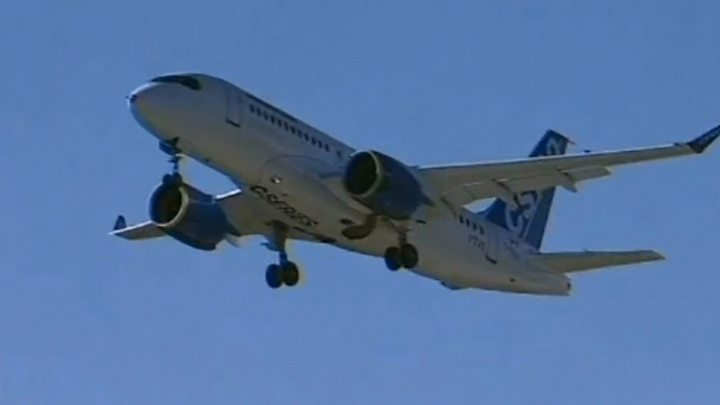 Unite's assistant general secretary Steve Turner is leading the delegation.
"It is crucial that the threat of these unjust crushing tariffs are removed," he said.
"Boeing does not produce an aircraft in the same class as Bombardier's C-series and didn't even bid for the Delta contract it is complaining about, which leaves its complaint totally without merit."
Mr Turner added: "If the US government imposes tariffs and Boeing's bullying wins the day, it will damage Bombardier and destroy UK jobs.
"It will also threaten thousands of jobs in Bombardier and its supply chain in the USA."
'Dispute'
The aerospace company is in a dispute with rival firm Boeing over alleged below-cost selling of its C-Series jet.
During preliminary hearings, the US Department of Commerce imposed a 220% tariff on Bombardier relating to subsidies it got from Canada and the UK.
This was followed by additional 80% in October.
The union said the department is due to make a determination on the matter on 19 December.