Brexit deal: A quick fix for a slippery slope?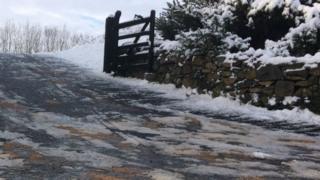 I have spent much of this weekend contemplating a slippery slope.
Not the slide towards a united Ireland which the DUP feared when they stopped Theresa May signing off on the first version of her Brexit agreement.
Nor the sight of an intrepid skier putting the majestic incline beside Stormont's Prince of Wales Avenue to good "off piste" use.
No - like I suspect plenty of other householders around Northern Ireland, I have been absorbed with my own personal battle against an uphill drive covered by snow and ice.
On Friday night, amidst driving through snow in the drumlins of County Down, I had to concede defeat and abandon my car outside a neighbour's house.
This morning it took a fair bit of spade work, plus liberal applications of grit and de-icing salt, to make it up my own slippery slope.
Extended metaphor warning!
Like the British, Irish and EU diplomats, I am left hoping that all my hard work will provide a lasting solution.
Who knows? The sun is out and perhaps the problem will simply melt away.
But maybe the winter will be harsh and I shall have to contemplate more radical solutions.
Reconciling differences
Perusing the latest joint agreement it feels like a temporary solution to get the Brexit vehicle where it needs to go.
But there are complications and contradictions in the document which could mean the deft work of the draughtsmen and draughtswomen could come unstuck in the future.
The by now famous paragraphs 49 and 50 simultaneously provide comfort to both Dublin and the DUP.
How their very different visions can be reconciled remains uncertain.
It seems likely the impact of the double guarantee of "full alignment" with EU trade rules and "no new regulatory barriers" between Northern Ireland and Great Britain may increase the chances of a soft Brexit.
However, diplomats and lawyers are certain to haggle over the details - for example there could be argument over precisely which areas are relevant to north-south cooperation in Ireland, the all-island economy and the 1998 Agreement.
It seems likely these "fall back" options will at least set the parameters for the debate during the next phase of Brexit negotiations.
If a very hard Brexit seems less likely, so does EU Special Status for Northern Ireland or, assuming there is no change in the UK government, the entire UK staying in the Single Market or Customs Union.
Nevertheless, the debate about alignment of regulations could take us into similar territory albeit by another name.
Trade and the Assembly
The unionist fear of Leo Varadkar's approach was that, by insisting on a political rather than a technological solution to the border problem, the taoiseach [Irish prime minister] was pushing a green Irish nationalist policy.
Mr Varadkar himself insists he had no hidden agenda.
If Dublin did have an aim in mind, could it have been to use Northern Ireland as the "Trojan horse" which would help achieve their aims regarding the far more lucrative East-West trade across the Irish Sea?
Cameras, computers and a system of "trusted traders" might have smoothed matters on the Northern Ireland border, but "full alignment" of trade rules appears far more helpful to the Irish economy as a whole.
The document envisages a potential role for the Stormont Assembly and Executive.
Maybe this will provide an incentive for the local parties to restore those institutions, although the precise circumstances in which they might intervene remain unclear.
On the downside, if Northern Ireland Assembly approval does become vital for important trade matters, those who currently hold vetoes are unlikely to relinquish them through any reform to the controversial petition of concern system.
'All or nothing'
One last thought - the commitments regarding Ireland are described as "default" options, "in the absence of agreed solutions".
But DUP sources are keen to point out that in the event of "no deal" there is another default, namely that "nothing is agreed until everything agreed" so the whole document falls.
So the Northern Ireland defaults appear to kick in, should there be an overarching deal between the UK and the EU, but no "agreed solution" regarding Ireland.
What would the DUP do in those circumstances?
So far as both the negotiations and my personal battle with a slippery slope are concerned, it is a case of onwards and upwards.
I am now in need of true grit more than Brexit.
What default options should I contemplate, snow tires or a four wheel drive?