One-punch death accused jury fails to reach verdict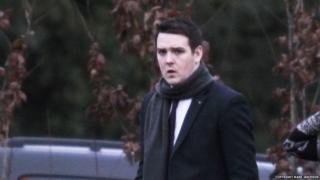 The jury has failed to reach a verdict in the trial of County Londonderry man who punched a member of the traveller community who later died.
Finbar McCoy, 28, was accused of the unlawful killing of James McDonagh.
Mr McCoy, from Tamlaghduff Road, Bellaghy, denied the charges.
Mr McDonagh, 28, from Castledawson, County Derry, died in hospital from the injuries he sustained outside the Elk Bar in Toomebridge in January 2016.
Mr McCoy has always admitted throwing the single punch which struck Mr McDonagh, but has maintained he is innocent of his unlawful killing.
'Screaming'
He was given continuing bail while a decision is made on whether or not he is to face a retrial in the new year on the manslaughter of Mr McDonagh.
A relative of Mr McDonagh's began screaming that he had been murdered.
She continued her protests as her family ushered her from the Coleraine court.
After five hours deliberation over two days, the jury of six men reported that not only were they hung on reaching a unanimous verdict, there was no prospect of even a majority of at least ten of them agreeing on his guilt or innocence.
After the jury foreman told the judge that they were "hopelessly divided", she said she had no other option but to thank them for their deliberations and discharge them.
The jury heard that Mr McCoy had been in the Elk bar with his family celebrating his father's retirement.
'Shouting and roaring'
Mr McDonagh, and his nephew, who were known to staff as regulars were also in the bar, drinking.
As the evening came to a close around 02:00 GMT there was a confrontation in the car-park.
Mr McCoy jr, who had left earlier, had to be restrained after getting a friend to drive him back to the car-park. There he found that his parents had been injured.
Mr McDonagh was stripped to the waist "shouting and roaring... laughing, egging" people on, the court was told.
Mr McCoy said he "panicked" and was "fearful for his family" and managed to break free from those holding him.
He said that in his "rage" he ran over and punched Mr McDonagh, also claiming he threw the punch as a "scare tactic" and that immediately afterwards he punched "a fence in his temper".
'Totally unresponsive'
Although Mr McCoy's father and others put an unconscious Mr McDonagh in "the recovery position" and despite advice from those present that he should be taken to hospital, he was driven to his mother's home.
She said her son was lying on the sofa, making a snoring noise, but she could not awaken him.
Later her daughter called for an ambulance, and staff found Mr McDonagh to be "totally unresponsive".
A post mortem later revealed that Mr McDonagh died from bleeding and swelling of the brain after a punch caused him to fall backwards and his head hit off the pavement, fracturing his skull.