Irish Sea fishing quota rise worth £3.6m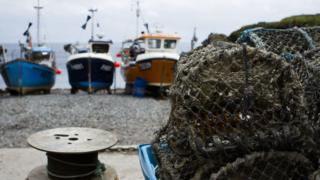 A rise in the amount of fish local trawlers can catch in the Irish Sea has been described as one of the best results for the Northern Ireland fishing industry in almost 20 years.
Total Allowable Catches (TAC) in the area are set by the European Union.
The move, agreed on Wednesday morning by the EU fisheries council, is worth an estimated £3.6m to the industry.
The amount of cod that can be caught has gone up by 376%, herring by 70% and haddock by 23%.
Nephrops, such as prawns, have seen an increase of 15% in their quota.
Alan McCulla, the chief executive of Kilkeel-based fishing co-operative Sea Source, said: "Taken together these increases will contribute additional catches for Northern Ireland's fishing fleet valued at several million pounds.
"The vast majority of fish taken from the Irish Sea are now harvested according to internationally recognised sustainability rules and whilst there is still a long way to go to return fisheries like cod to what they were in their heyday, decisions taken overnight in Brussels represent a very significant step in the right direction."
A spokesperson for the Department of Agriculture, Environment and Rural Affairs (DAERA) said it was a "positive" development.
They said it was due to "robust evidence" that most fish stocks in the Irish Sea are now "performing well and are being fished sustainably".
"These increases are the reward for the adoption of sustainable management measures in the Irish Sea and much hard work over a number of years by fisheries scientists," they added.