North Belfast: Baby's ashes stolen in burglary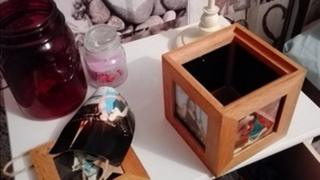 A baby's ashes have been stolen during a burglary in north Belfast.
Nothing else was taken in the burglary on the Ballygomartin Road between 18:15 and 21:30 GMT on Tuesday night.
Claire Smallwood, whose daughter, Holly, was stillborn last November, said she was "absolutely devastated, angry and sickened" by the theft.
Holly's ashes were in a small plastic bag that was kept in a wooden box on Ms Smallwood's bedside table, adorned with family photos.
"The police believe they (the thieves) thought it was drugs," Ms Smallwood told BBC News NI.
'Lost her twice'
"We don't care about whatever sick person has done this we just want our Holly back.
"The worst thing about it is that when they realise what it is, and that it is no good to them, they will probably just throw it away like it's nothing, but it's everything to me.
"I feel like I have lost her twice and it feels even worse this time," she added.
"The only hope I have is that someone sees our appeal and feels bad."
'Extremely distressed'
Ms Smallwood has asked that anyone who is out walking in the area keep an eye out for a small clear bag with a knot tied at the top, in case it has been discarded.
The police have appealed for information and for whoever took the ashes to "do the right thing" and return them.
Inspector Paul Noble said: "During the burglary... a small clear bag from a wooden box which contained the ashes of the victim's deceased baby daughter was taken.
"Understandably, this has left the victim extremely distressed."