NI unemployment falls for 21 consecutive months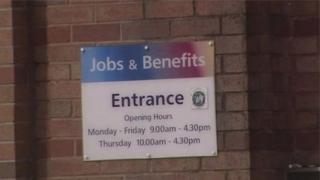 Unemployment in Northern Ireland has fallen for 21 months in a row.
Official figures show a drop of 300 people claiming job-related benefits in November to 29,000.
Other figures show the production sector of the economy fell by 3.6% between July and September.
Northern Ireland Research and Statistics Agency said it is because of a big fall in the food, beverages and tobacco sector, which is down 18% over the quarter and 39% over the year.
The good news is that services, which is the biggest sector of the Northern Ireland economy, is continuing to grow.
Figures show output rose by 1% between July and September and 2.5% higher than the same time last year.