Department of Agriculture writes off £5m in farmer overpayments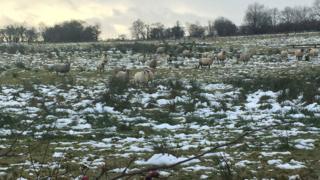 The Department of Agriculture has written off almost £5m in overpayments made to farmers.
The money was paid out in error to more than 11,000 farms between 2007 and 2013.
Many of the payments were as low as £50, but about 40 farmers got to keep more than £10,000. In one case, the overpayment ran to more than £70,000.
The department said it "regrets" the mistake but new procedures mean it "won't happen again".
Officials could not recover the cash because their IT system was not set up to claw the money back and they did not have the staff to do this manually.
The £160m Less Favoured Area Compensatory Allowance Scheme was used to support farmers with poorer land, such as those working on hill farms.
It paid them a top-up based on how much land they had and a premium for keeping cattle on the land.
Too much rush growth, or heather which was too dense, ought to have made land ineligible for a claim.
However, the department said it was difficult to identify the problem because the aerial farm maps on which payments were based were not detailed enough.
When a farm inspection identified an ineligible claim, the IT system was not set up to allow officials to check if there had been an issue with claims from previous years.
In total, 11,494 farms were paid for land that should not have received support.
In more than half the cases, payments amounted to about £50.
'Regret'
The department was involved in a lengthy decision-making process on whether to try and recover the cash.
But it said it had now decided that, as it would cost £5m to get the overpayments back, this would not be cost effective to do so.
It said that legal challenges by farmers could have greatly increased the cost of recovery.
The department's director of EU area based schemes, Brian Doherty, said: "We do recognise that we should have gone back retrospectively and we do regret as a department that we didn't do that at the time."
He said a new high-resolution mapping system, introduced in 2013 and changes to the accounting software meant the problem should not arise again.