Sixth forms 'not value for money'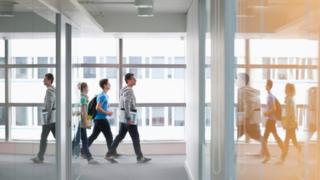 Some school sixth forms in NI are not financially sustainable or value for money and don't meet learners' needs, it has been claimed.
The criticism comes from Colleges NI, the body which represents NI's six further education (FE) colleges.
They have also said that reform of the education system is "urgently required".
This is especially in light of the significant funding gap facing schools, they said.
The head of the Education Authority had previously said that the education system in Northern Ireland was facing a £350m funding gap by 2019-20.
Colleges NI said that over £50m a year was being spent by FE Colleges "addressing the significant educational underachievement from compulsory education in the post-primary sector."
"Over one third of pupils leave school in NI without five or more GCSEs at Grade A*-C including English and mathematics," they said.
"The FE colleges are the primary means of redressing this issue."
'Not financially sustainable'
More than 80% of the 199 post-primary schools in Northern Ireland operate sixth forms.
The number of pupils in school sixth forms fell by 1,000 to 28,478 in 2017/18, according to figures released by the Department of Education.
However, Colleges NI said that one fifth of those sixth forms have fewer than 100 pupils "which is neither financially sustainable, value for money nor genuinely meeting the learner or wider economic needs", said Colleges NI.
"Professional and technical qualifications education must be valued by all if we are to address the future economic needs of Northern Ireland."
"This requires some hard choices and a rethink on the prioritisation and use of limited resources across our education system."