Men's Shed Antrim - a boyband with a difference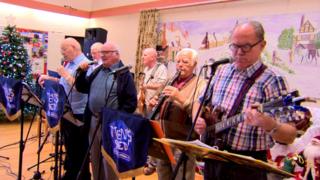 It's a boyband with a difference, whereby the members have a combined age of more than 500 years.
The singers are from Antrim's Men's Shed, an organisation which encourages older gentlemen to socialise together and promotes well-being.
Despite their advanced years, they are much in demand at Christmas time to perform in care homes and day centres.
One of the band members said: "Singing with these blokes, I get enjoyment, happiness and contentment."
'Sour face'
The Men's Sheds project was conceived in Australia and is a growing movement in Northern Ireland, with about 50 groups established in the past three years.
Preparing to perform Rockin' around the Christmas Tree for pensioners at Antrim Day Centre, Jim O'Sullivan carefully arranges his sheet music.
The 80-year-old is both lead singer and front man for the group.
The retired RAF man jokes with the audience, telling them to join in and have a "bit of a dance if they feel like it".
He describes the comradeship that comes from being involved with Men's Shed as being "let out of jail".
"My wife has dementia," he said. "I opened up when I got there and thought it was great. I wasn't lonely as such, but I felt very confined.
"Meeting these blokes and the craic - it is unbelievable. You needn't go near them in the morning with a sour face or they will tear you to pieces."
Novelty group
The music group is clearly an added bonus as Mr O'Sullivan said he loved singing.
"We're a pensioners' group - for other pensioners. The blokes are all very talented and I have learned so much from them, how to start and finish a song. They are so professional."
James Wilson, who at 67 is the baby of the group, plays lead guitar. Far from being just a novelty group, he said they aimed for high standards.
For him, the motivation is providing enjoyment for others, especially those in residential care.
"We try and lighten the day for people because it is a long day for anybody in these homes," he said.
"That's the thing we realise - we come in during the morning about 11 and play. Then that's it. Once we finish that's the most excitement they are going to get that day, so that is a bit sad.
"We are glad to be able to put in the time for them."
And so what does the audience make of the band?
Bertha Campbell is keen to show her appreciation.
"They're brilliant, they have made me very happy this morning," she said.
Her friend Isobel Edwards agreed.
"I'm singing away and clapping my hands but I couldn't dance because I can't stand up too good," she said.
Mr O'Sullivan said that made it all worthwhile.
"Singing with these blokes, I get enjoyment, happiness and contentment," he said.
"I'm not looking for anything else and that's fantastic at my age."