Líofa language scheme to operate in 2018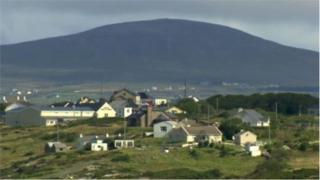 An Irish language bursary scheme whose funding was controversially cut by DUP minister Paul Givan is to launch its programme for 2018.
Funding for the £50,000 Líofa Gaeltacht Bursary was withdrawn in December 2016.
In January, Sinn Féin's Martin McGuinness said the cut was part of the reason for his resignation as deputy first minister.
Mr Givan later restored the funding, saying his original decision was not "political".
In the March election that followed Mr McGuinness's resignation, Sinn Féin calls for an Irish language act became a major theme.
DUP leader Arlene Foster said her party would never agree to such an act.
Alluding to Sinn Féin's demands, she told a party event: "If you feed a crocodile it will keep coming back for more."
However, she subsequently visited a school in Newry and said thank you in Irish.
Mrs Foster said she was on a "journey" when it came to the Irish language and people have "nothing to fear from engaging with another culture".
The question of an Irish language act has continued to divide the two biggest parties in their attempts to restore devolution to Stormont.
The Líofa Gaeltacht Bursary scheme was set up by former culture minister Carál Ní Chuilín to encourage people to sign up to learn and improve their Irish speaking.
It gives learners an opportunity to immerse themselves in an Irish-speaking community, increase their knowledge and use of Irish through attending classes, and taking part in a wide range of cultural activities including sport and music through the medium of Irish.
The scheme is open to students whose parents are in receipt of a means-tested benefit, or adult learners in receipt of one of the qualifying benefits, who are resident in Northern Ireland.
The Department for Communities says demand for the bursaries is high.
The 2018 scheme will open for applications from 3 January 2018 - application forms can be downloaded from the Líofa website.