PSNI boss calls for government action on Troubles cases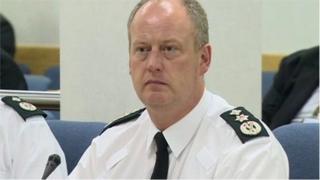 Northern Ireland's top police officer has called on the government to accelerate stalled proposals to deal with the legacy of the Troubles.
In an open letter, George Hamilton said it was time to stop prevaricating "and get on with it".
The chief constable expressed frustration that the institutions proposed in the 2014 Stormont House Agreement have yet to be implemented.
He made particular reference to the Historical Investigations Unit (HIU).
The introduction of the HIU would "remove the responsibility for the investigation of acts of violence during the Troubles from the PSNI (Police Service of Northern Ireland); allowing us to concentrate on keeping people safe," he said.
Impasse
Mr Hamilton told the Press Association that if local parties were unable to overcome the impasse blocking implementation of the Stormont House Agreement, then London needed to step up and deliver.
He said the delays were exacerbating the hurt of victims and leaving police to "soak up" issues that should be dealt with through the new mechanisms.
In his letter, the chief constable said he had read carefully the recent open letter from the Glenanne families calling on him to carry out a court ruling and order an independent investigation into the murders of their loved ones.
"As chief constable I am frustrated and concerned. But this cannot compare to the raw hurt and pain that grieving families experience," Mr Hamilton wrote.
Last month, a judge said he would compel the chief constable to complete an investigation into the activities of the so-called Glenanne Gang.
Alleged activities of the so-called Glenanne Gang
The gang has been linked to up to 120 murders
It was based on a County Armagh farm
It included members of the UVF, RUC and UDR
A report into its alleged activities by the PSNI's Historical Enquiries Team was 80% completed before the police unit was disbanded
The PSNI has not completed or published the report
Mr Hamilton says in his open letter that he will be appealing the judgement and that he finds himself in an impossible situation.
"The High Court has found that while I have a legal obligation to investigate the circumstances of the Hillcrest bombing and other related cases, my organisation is not sufficiently independent to conduct that investigation," he added.
Four people were killed in the bombing of the Hillcrest Bar in Dungannon in 1976. The case was considered by the Historical Enquiries Team to be linked to the Glenanne Gang.
The chief constable said he had already had to transfer detectives working on current terrorist and child protection investigations to deal with the disclosure of documents in legacy cases.
Amid the political impasse on setting up the new structures, Northern Ireland Secretary James Brokenshire has proposed conducting a consultation exercise to establish the wider public's view on legacy matters - but that has yet to materialise.