Sir William Hastings, NI's leading hotelier, dies at 89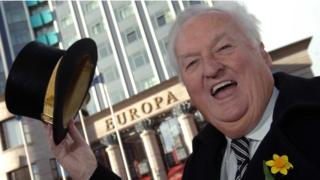 The leading hotelier, Sir William Hastings, who was one of the best known figures in Northern Ireland's tourism industry, has died at the age of 89.
His family said he "passed away peacefully at home" on Friday after a short illness.
Sir William founded the Hastings Hotels group more than 50 years ago. It owns six hotels across Northern Ireland.
His family praised his contribution to tourism during the Troubles, when many investors were "shying away" from NI.
'Father of tourism'
In 1993, he bought Belfast's Europa - which was world famous for being "the most bombed hotel in Europe".
His family said he "transformed" the building, providing employment and trade for local suppliers.
The leader of the Democratic Unionist Party (DUP), Arlene Foster, said she was "deeply saddened" by Sir William's death.
"It isn't an understatement to describe Billy as the father of the modern tourism industry in Northern Ireland," she said.
"His drive and business acumen meant that he not only continued to trade throughout the difficult years of the troubles, but sought to grow and expand.
"His commitment laid the groundwork for much of more recent development in Belfast and across Northern Ireland," Mrs Foster added.
'Outstanding accomplishments'
As well as the Europa Hotel, the Hastings group's portfolio also includes:
Culloden Estate and Spa
Stormont Hotel, Belfast
Everglades Hotel, Londonderry
Slieve Donard Resort and Spa, Newcastle
Ballygally Castle, Antrim coast
In 2015, Sir William announced the purchase of his seventh hotel in Belfast city centre - the Grand Central, which is still under construction.
The tourism organisation, Visit Belfast, also paid tribute to his contribution to the travel and hospitality sector, describing it as a "lifetime of exemplary and inspiring business achievement".
"A stalwart of Northern Ireland's business community for generations, Sir William was a true entrepreneur with vision, positive in his outlook and always optimistic about this region's future," it added.
His family said they were "immensely proud of his outstanding accomplishments".
"He took great pride in working together with us in the family business and until he took ill earlier this year, he still came into his office every day and continued to play a key role as chairman of Hastings Hotels," their statement added.
Knighthood
"We cannot describe the huge void that he has left in our lives but we take comfort in the fact that he was an inspiration to so many people and has left a lasting legacy which we will remain dedicated in honouring."
Sir William also worked closely with the Northern Ireland Tourist Board and was involved with a number of charities.
In 2009, he was given a knighthood for his services to tourism and to the community in Northern Ireland.