Man appears at Londonderry court on explosives charge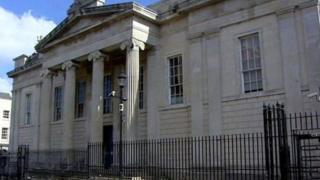 A 39-year-old man has appeared at a court in Londonderry charged with possessing explosives in suspicious circumstances.
Gary Burke, of Ederowen Park in the Galliagh area of Derry, denied the charge.
The court was told that during the search of a house in Ederowen Park, items were discovered in a bag in a cubby hole in the kitchen.
These items included components for a bomb and accelerant.
Mr Burke was arrested on Thursday.
A police officer said that Mr Burke supplied a pre-prepared statement and otherwise did not speak when he was interviewed.
The officer said they opposed bail due to the potential risk of further offences, protection of the public and the possibility of interference with witnesses.
A defence solicitor told the court that Mr Burke was denying having any connection to the items.
'Fingerprint evidence'
He said that he would be claiming that he had no access to the cubby hole.
The solicitor added that Mr Burke had volunteered witnesses to the police, although they have yet to be interviewed.
He also said that Mr Burke was hopeful that DNA and fingerprint evidence would clear him.
He said that the only link between Mr Burke and the items was the bag, and the defendant denied knowing what was in it.
The judge said it was a case that could take some time to be resolved.
He said he felt there was a danger that Mr Burke could speak to witnesses, and bail was not granted.
Mr Burke was remanded in custody to appear again on 11 January.