£3.9m funding boost for GP services in Northern Ireland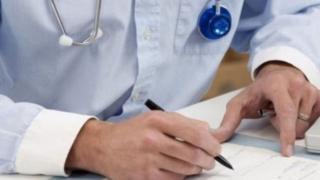 The Department of Health has announced investment of £3.9m for General Practice (GP) services in Northern Ireland.
It said £1.7m would tackle challenges posed by the country's ageing population while £2.2m will increase the value of the GP contract by 1%.
The Royal College of GPs in Northern Ireland has welcomed the extra funding.
It will help practices provide essential services, says BBC NI health correspondent Marie-Louise Connolly.
It also sends a powerful signal that the Department of Health can release funding when necessary, even without a minister in office.
Exactly one year ago Northern Ireland's GPs agreed a financial plan with the department, says our correspondent.
The GP-led care Review Plan was approved by then Health Minister Michelle O'Neill, but the collapse of the Executive meant the plan was never implemented, she adds.
'Struggling to manage'
The investment of an extra £3.9m followed investment earlier this year of £1.9m for elective care and £3.91m to continue the roll-out of nearly 300 practice-based pharmacists, said the department's permanent secretary, Richard Pengelly.
"Given the current difficult financial position, investing nearly £10m more in GP services, the largest additional investment in recent years, reflects the department's commitment to the continued development of sustainable and accessible primary care services," said Mr Pengelly.
"The department is also introducing changes to the eligibility to the sickness leave scheme for GPs.
"It is estimated that these changes will save GPs more than £2.5m per year in sickness leave insurance premiums."
Dr Grainne Doran, chairwoman of the Royal College of GPs in Northern Ireland, said: "GPs throughout the region have been working at maximum capacity and struggling to manage a significantly growing workload without extra resources".
"Any additional investment is a recognition of the need to ensure the sustainability of general practice across Northern Ireland," she said.
Analysis: Marie Louise-Connolly, BBC NI health correspondent
The funding illustrates that health officials appreciate the struggle facing many practices. That alone will bring some comfort to doctors.
But there is still some way to go. The Bengoa health review said all practices should have a health visitor and practice nurse in place. That hasn't happened.
While this money is welcome, it will not solve all the problems: Most GPs are working to full capacity and will continue to do so.
Additional money will alleviate some of that pressure, but will probably not make it easier to get an appointment..
What it really does is send a positive message to doctors working in communities that the DoH is listening.
That alone will lift their spirits and provide some hope in what is an increasingly difficult environment.
In June, the Northern Ireland General Practice Committee called for three measures "to prevent the collapse of general practice across the country".
These were:
Investment of 10% of the Northern Ireland healthcare budget on a safe, sustainable GP service for patients
Training and recruitment of more GPs so practices at risk of closure can stay open and meet the needs of patients
Reducing bureaucracy and improving IT systems so more time can be spent providing care to patients
At the time, a senior BMA source told the BBC there was anger over budget cuts and the collapse of the Stormont executive.
In October, the health service in Northern Ireland was given an additional £40m of funding to be used to address "inescapable" cost pressures and tackle waiting lists.
The move was announced by the Department of Finance, as part of a reallocation exercise known as a monitoring round.