James Valliday remanded back in custody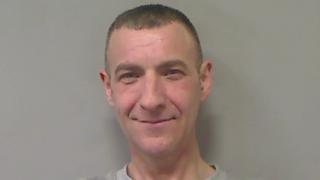 A remand prisoner who failed to return to Maghaberry jail after he was given compassionate bail was remanded back into custody on Monday.
James Valliday, 52, was arrested on on Sunday morning.
Police are still appealing for information about the whereabouts of a second missing remand prisoner, his brother Charles Valliday, 45.
The two brothers failed to return to prison after attending a relative's funeral in west Belfast in November.
A court had granted them temporary release on compassionate bail.
On Monday, at Belfast Crown Court, when asked by the clerk of the court, "Are you James Valliday?" the defendant replied "yes love".
A Det Insp confirmed to the court that Mr Valliday was apprehended after a warrant was issued for his arrest.
The judge said that "in the circumstances", he was going to remand Mr Valliday into custody.
The accused was then led from the dock in handcuffs.
Both brothers are currently facing charges arising from the murder of Charles Mackin, who died following a shooting in the city centre in 2012.