Christmas getaway - what you need to know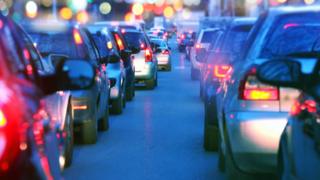 The run-up to Christmas often goes hand-in-hand with a little bit of chaos.
Running around getting those last-minute gifts, battling traffic and trying to make travel arrangements while bus and train companies are working on holiday timetables.
Here are some of the things to consider to help keep this weekend hassle-free.
A white Christmas?
While it is impossible to say for sure, it is very unlikely this Christmas will be a white one for Northern Ireland.
The definition that the Met Office uses to define a white Christmas in Northern Ireland is for one snowflake to be observed falling in the 24 hours of 25 December at the weather station at Aldergrove.
Snow has fallen somewhere in the UK on 38 of the past 54 Christmases but, according to the Met Office, we are much more likely to see snow between January and March than in December.
The last white Christmas here was in 2010.
The highest Christmas day time temperature was 14.8C, recorded at Belfast Newforge in 2016
The lowest Christmas night time temperature was -17.5 C, recorded at Katesbridge (Down) in 2010
The wettest Christmas day was in 1956
Last orders at the bar
24 December, or Christmas Eve, falls on a Sunday this year, which might affect your plans for a night out.
Sunday opening hours will apply to pubs and off-licences. So if you were planning to indulge in a pre-Christmas tipple, then read on.
Normal Sunday opening hours for pubs are 12:30-22:00 GMT. Late licences can be obtained where food or entertainment is being provided.
Off licenses must close at 22:00.
Frantic Friday?
Friday is expected to be the busiest day at Northern Ireland's airports, and roads and rail networks will be packed as well.
After a busy Christmas rush period, Translink has said Friday will be its busiest day yet, with 250,000 passengers expected on buses and trains.
Translink will operate holiday timetables from 24 December and Metro, Ulsterbus, and NI Railways will not operate on Christmas Day.
Full details can be found on the Translink website.
Three flights at Belfast City Airport and one at Belfast International were delayed on Friday morning due to fog.
More than 125,000 passengers are expected to pass through Belfast International airport during the Christmas period.
Wesley Johnston, Northern Ireland Roads expert
People have to do last minute shopping and they want to go to other places for Christmas, so there are going to be lots of people on the roads.
The situation is compounded this year by the fact that there is Sunday trading on Christmas Eve, so the shopping has to be done by 18:00
That means there is going to be a concentration of people wanting to move about at that time, especially in and around greater Belfast.
"Scheduled services from ten GB destinations will account for the bulk of the passengers with people heading home for Christmas with their families," said a spokesman.
Meanwhile, an estimated 10,000 people are expected to travel through Belfast City airport each day before Christmas.
"The 21st, 22nd and 23rd are expected to be the busiest days," said an airport spokeswoman.
"We have extra staff on hand to make sure everyone's journey is as smooth as possible - including present wrapping stations within the security area," she added.
Black-eyed Friday?
Office parties and high alcohol consumption can lead to mishaps. Historically, there is an increase in hospital trips over the Christmas period.
However, the Belfast Health Trust said the introduction of its Alcohol Recovery Centre (ARC) has eased the pressure on emergency departments.
The ARC in Belfast city centre helps to divert attendances from its emergency departments on Friday and Saturday night, the trust said.
The unit is operating in partnership with voluntary groups, the ambulance service and the PSNI.
Check your list twice
As with the pubs, shops will adhere to normal Sunday opening hours on 24 December, so be careful not to leave anything off your list.
Large shops will be open from 13:00 to 18:00 BST. Smaller shops can stay open for longer.
Bin collections
There will be no bin collections on 25 December, however some will be collected as normal on 26 December.
Check with your council to find out when your alternative collection date is.
And when it's all over...
When the last pig in a blanket has been gobbled up and you start to feel a bit like one yourself, why not consider taking a dip on Boxing Day at Ballyholme or on New Year's Day at Portrush?
Seaswims are scheduled to splash off from Ballyholme Yacht Club at 11:00 on 26 December, and along various north coast beaches on New Year's Day morning.