Garrison alert: 'Nothing untoward found'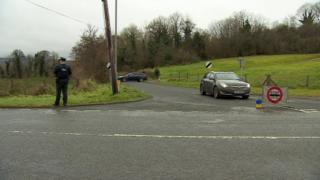 A two-day long security alert in County Fermanagh, close the Irish border, has ended after police found "nothing untoward" during searches in the area.
The alert began at about 16:30 GMT on Sunday, when police received a report that a "suspect device" had been left between Garrison and Belcoo.
Cashel Road was shut from Lattone Road to the border and Gardaí (Irish police) closed part of County Leitrim road.
Army technical officers assisted the search which ended on Tuesday evening.
Insp Rory Hoy said the road had been closed immediately to protect public safety.
"The safety of the community is of paramount importance and we will not take any risks, however, I want to thank the local community for their patience and understanding during this operation."
He appealed to anyone with information about the incident, or who saw any suspicious activity, in area in recent days, to contact them.