Freezing temperatures trigger £25 cold weather payments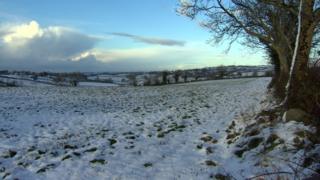 Almost 16,000 benefits recipients are in line for a £25 payment because they live in areas where temperatures fell below freezing for seven days in a row.
It is known as a Cold Weather Payment and it will be automatically paid to people who qualify due to their postcode and existing benefit status.
The payments are triggered when weather conditions produce temperatures of 0C or below for seven consecutive days.
The qualifying postcode areas are BT24 to BT26 and BT30 to BT34.
It follows a period of snowfall during the second week of December which led to several school closures and widespread travel disruption.
The affected postcodes are aligned to the Katesbridge weather station in County Down, where the Met Office recorded temperatures of zero or below from 8 December 2017 to 14 December.
In a statement, Stormont's Department for Communities said £393,000 will be shared out to almost 16,000 people in the first of this year's Cold Weather Payments.
It added that it will process the payments automatically to qualifying residents, so there is no need to make a claim.
"Only those qualifying customers living in these postcode areas will receive the £25 payment," the statement added.
"Customers can expect to receive their payment on Wednesday 20 December 2017."
In order to qualify, residents within the affected postcode areas must also be in receipt of one or more of a range of state benefits, including pension credit, income support and Universal Credit.
Cold Weather Payments are distributed in addition to pensioners' annual £200 Winter Fuel Allowance.