Labour and SNP fail in bid to backdate political donations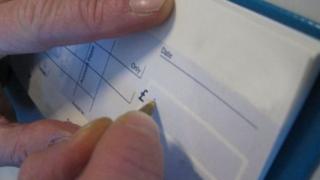 Labour and the SNP have failed to change government plans over the way political donations in Northern Ireland are published.
The government wants all donations made public from July of this year.
However, Labour and the SNP have said donations should be backdated to January 2014.
Northern Ireland Office Minister Chloe Smith laid plans before parliament to allow the publication of donations and loans received after 1 July this year.
The order will now go before the House of Lords next month.
Assuming it is passed there, the first donations to Northern Ireland parties should be made public about the end of January or start of February.
The threshold for publishing donations is £7,500 for a central party or £1,500 for an individual politician or what's known as an accounting unit such as a constituency branch.
Aid transparency
During a debate on Tuesday, Ms Smith said she found it "frankly quite amazing," that Labour was "opposing transparency".
She said the move would aid transparency.
Labour's Ben Bradshaw said the government's move did not go far enough and described the plans as "shabby".
The Shadow Northern Ireland Secretary, Owen Smith, said the law should be retrospective and the government's plans were "deeply disappointing".
'Affair stinks'
He raised the issue of a £435,000 donation from the Constitutional Research Council during the EU referendum campaign and said this legislation would not include details of that donation.
He told MPs "unfortunately this affair stinks" and described the donation as the largest in the history of Northern Ireland politics.
The DUP MP, Sammy Wilson, said he was surprised by the position of the Labour Party.
He said in relation to the Constitutional Research Council "all obligations had been met".
Mr Wilson said in broad terms the last Labour government accepted there were "good reasons " why donations were not made public.
He said some of the opposition from the Labour Party was all about the result of the referendum campaign.
He said the Labour Party had "taken umbrage " with those parties who had campaigned to leave the EU.
Other MPs criticised the Labour Party including the Conservative MP, Simon Clarke, who said Labour was guilty of "flip flopping".
The government's plans were opposed by the SNP MP, Deidre Brock, who argued that the publication of donors should be backdated to 2014.