Paul Girvan MP investigated over Antrim food bank plea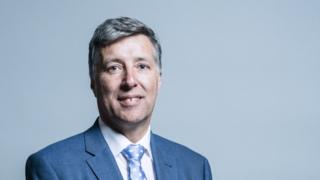 A Democratic Unionist Party MP is being investigated by the Parliamentary Standards Commissioner over an alleged breach of the Code of Conduct for MPs.
Paul Girvan said in a tweet that he had written to businesses in his constituency to encourage them to support food banks.
"One took umbrage at receiving the letter on House of Commons stationery," he said.
"He has reported me to the Parliamentary Standards Commissioner.
"I am cooperating with the commissioner's investigation."
The South Antrim MP is being investigated under a section of the code which ensures expenditure is only used in support of parliamentary duties.
Paragraph 15 of the House of Common's Code of Conduct for Members states:
"Members are personally responsible and accountable for ensuring that their use of any expenses, allowances, facilities and services provided from the public purse is in accordance with the rules laid down on these matters.
"Members shall ensure that their use of public resources is always in support of their parliamentary duties.
"It should not confer any undue personal or financial benefit on themselves or anyone else, or confer undue advantage on a political organisation."