Gary Haggarty: Legal challenge over supergrass handlers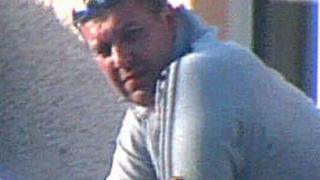 A decision not to prosecute two retired police officers, who a loyalist killer claims directed and protected him, faces a court challenge.
Ulster Volunteer Force "supergrass" Gary Haggarty has admitted more than 500 offences, including five murders.
Most were committed while he was a paid Special Branch informer.
The former Ulster Volunteer Force (UVF) commander claimed two police handlers had advance warning about many of his crimes.
His allegations were investigated by the Police Ombudsman who then sent a file to the Public Prosecution Service (PPS).
Two months ago, the PPS said the former police officers would not face criminal charges.
It said Haggarty's evidence alone was insufficient to prove his allegations beyond a reasonable doubt.
Alibi
The director of public prosecutions, Barra McGrory QC, wrote to relatives of Haggarty's victims to explain his decision.
He said one of the Special Branch officers had an alibi as he had provided a sick line which showed he was off work for four months due to a back injury at the time when Haggarty claimed that he was in contact with him.
The letter also said that there were no written police records to corroborate his account.
A relative of one of the victims of Haggarty's UVF gang is challenging the basis for that decision.
Sean McParland, 55, was shot dead by Haggarty while babysitting his grandchildren in north Belfast in February 1994.
A lawyer for the former UVF commander told Belfast Crown Court last week that immediately after the shooting, Haggarty had given his RUC Special Branch handlers the identities of all of those involved.
But, he claimed that they told him not to answer questions when arrested and no-one has ever been charged with the murder.
The court was also told Haggarty gave his handlers advance information on a number of murder plots, but the killings were not prevented.
'Astounding'
Michael Monaghan, the husband of one of Sean McParland's three daughters, is seeking a judicial review in an attempt to quash the decision not to charge the former police officers.
His solicitor has described the PPS decision not to prosecute as "astounding" and "a scandalous affront to families who have waited so long and invested so much faith and trust in the present institutions".
"Our client has been deprived of the opportunity of having his evidence tested robustly under cross examination and openly in a criminal court, thereby depriving the victims and survivors and indeed the public the opportunity to see justice in action," said Niall Murphy.
The lawyer said his client believes the decision making process was "stage managed and directed to ensure that no prosecutions were ever brought".
The application contends that the provision of a sick line by one of the former Special Branch handlers "does not come remotely close to satisfying the requirements of an alibi defence" in a criminal court.
Referring to transcripts of interviews with investigators after he agreed to become a supergrass, the solicitor pointed out that Haggarty referred to one of his handlers being off work because of an old sports injury, but he continued to phone and meet him during that period.
"That sick notes, in effect, provide an absolute cover for four months of activity doesn't cut it in our respectful view and, obviously, Gary Haggarty, in his own account, referred to the fact that one of his handlers suffered from a bad back," he said.
"So, far from being a defence, we consider that the fact that this officer had a bad back actually corroborates a lot of what Mr Haggarty had to say."
The application also challenges the PPS argument that the absence of written Special Branch records to corroborate Gary Haggarty's account was another reason for the decision not to prosecute.
"That excuse is preposterous," Mr Murphy said.
"That a failure by the suspected criminal to maintain notes of his criminality is a relevant consideration to not prosecute a criminal - that, in our view, is irrational and very unreasonable."
Gary Haggarty is to be used as a prosecution witness in the trial of a man accused of murdering Catholic friends Eamon Fox and Gary Convie in Belfast city centre in February 1994.
He will first of all be sentenced for his own crimes. He will receive a significant reduction in exchange for agreeing to give evidence against others who, he has claimed, were involved in his crimes.
A hearing to determine whether the judicial review of the PPS decision not to prosecute his handlers can proceed is expected to he held early next year.